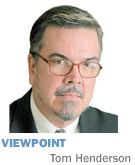 Customer retention and new sales can be trendy. If you're Comcast/Xfinity, as an example, you're reeling from the insane firestorm of social media castigation as regards to how you've trained, monitored and improved the quality of your customer service representatives.
Except you didn't, and your sales department tents have become a gravitational source point for hundreds of dissatisfied clients driving by whilst uttering obscenities, with improper social gestures.
And if you think Comcast/Xfinity exists in a vacuum, think again. Social media can rapidly eat your lunch, then your bank account and sales projections. Customer service and consumer protection have dropped to all-time lows as legislatures have taken the money and campaign contributions of businesses who've overreached the corporate liability shell.
Let's take as an example your windshield. Perhaps there's a chip or crack in it. Was it the dump truck a few days ago in traffic? Ahead of you, the truck didn't pull the cover over its load of pea gravel, and Indiana's fabulously luxurious roads meant that a single pebble escaped and smacked you.
An interesting exception in Indiana law says that the dump truck does NOT have to have its license plate displayed on the rear of the vehicle. This is so you can't track it down and turn in a claim to the truck's insurance company to pay your windshield claim.
Perhaps you're lucky enough to have an insurance company that will pay your windshield claim, and not out of your deductible. You'd certainly need luck on your side, because Indiana doesn't require insurance companies to pay for such claims without a deductible.
Social media has become a relief valve, as a result of the inability of the legal system to serve as a civil means of recourse. People will tweet their brains out, castigate on Facebook, vilify your organization on Yelp, and sometimes with justification. Why? You left a bad impression. You didn't monitor your customer service staff. You weren't diligent in your training.
Yes, it's true that you will never please some customers. Sadly, they live awful and unmedicated lives. They're a minority, but a painful and vocal one.
The ones who can be pleased, however, are also happy to voice opinions. And they'll also march away from you with their money if not treated well. They'll try earnestly to get in touch with you, by social media, by phone, by email, then in the worst cases, by mail and delivery of the tort to your attorneys.
Your rating with them is slipping madly away from you, and control—what little you had—can be lost in a firestorm and the maelstrom of the speed of social media.
Public relations probably helps, but only if you listen. Paying PR people to help you understand your image, then ignoring what they say, is a recipe for the cesspit of Chapter 7. Should they tell you that your on-hold messages are crazy, and the on-hold music will chase moose at a hundred yards, listen to them. Looking at you, Anthem.
If the interactive voice response system is actually a jail, get ready for the aforementioned firestorm, because you're already pouring kerosene on the fire of dissatisfaction. Call-center systems cause more smartphone breakage than accidents. That's why Western Electric made phones so strong, so you could bang them in frustration.
Listen up: We want to love you and spend money with you. Stop wasting our mutual time. Listen to PR customer service pros.•
__________
Henderson is principal researcher of ExtremeLabs Inc., a Bloomington computer analysis firm. Send comments on this column to ibjedit@ibj.com.
Please enable JavaScript to view this content.