The Indianapolis-based North American Retail Hardware Association is investing $4 million to buy and renovate a downtown building that will become the organization's national headquarters.

The NRHA now is based in Intech Park on the northwest side. By purchasing the three-story building at 136 N. Delaware St., whose lone tenant is the Indiana Members Credit Union, the group is returning to its roots.

The not-for-profit, which represents independent hardware stores, home-improvement centers and lumber yards, was founded in 1900 in Argos, Indiana. Within 10 years, it moved to downtown Indianapolis and constructed its own building in the vicinity of 12th and Pennsylvania streets before moving to the west side in the 1970s, NRHA President Bill Lee said.

"Historically, we've pretty much owned our headquarters," he said. "We just felt, with the current economic climate and the desire to own something again, now is as good a time as any."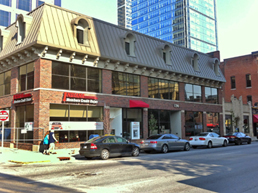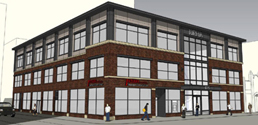 NRHA plans to give the historic building (photo at top) its second facelift in 31 years (rendering below). (Scott Olson/SITE Architecture)
NRHA bought the 30,000-square-foot building across from City Market in April from a local owner and is beginning renovations in hopes of moving downtown by July.

The credit union will continue to occupy about a third of the ground level. NRHA will use the rest of the first-floor space for a conference center that also can be rented out to businesses. The association will occupy the entire second level. It plans to lease the top floor to an office tenant.

Constructed in 1934, the structure is known as the Carr Building and is named after longtime owner Robert E. Carr of Midwest Management. He remodeled the building in 1983, which is when it lost its original neo-classical appearance, according to an Indianapolis Historic Preservation Commission filing.

The commission unanimously approved NRHA's plans Sept. 3.

"If this building had not been altered so dramatically in 1983, [IHPC] would advise against the design approach being suggested," IHPC staff wrote in the filing. "However, when staff considers the reality of what happened to the building, and accepts the fact that the third floor addition is already there, then we come to the conclusion that this design does meet the spirit of the [historic area plan]."

A third-floor addition increased the availability of leasable space and gave the building more of an old-fashioned look, the filing said.

NRHA plans to install a new façade by removing the metal roof and constructing framing for third floor walls. The walls will be vertically straight, replacing walls that are angled like the current roof. The top floor will be clad in metal panels and the arched dormers will be removed.

Much of the brick and the 18 existing skylights will remain, said Rich Forslund of Summit Realty Group, who along with Matt Langfeldt represented both the buyer and seller.

"They're ripping out the windows and the skylights are returning," he said. "So in turn you've now got a ton of natural light."

The architect on the project is SITE Architecture. The contractor is Garmong Construction.

NRHA considered a few buildings but quickly zeroed in on the Delaware Street location, Lee said.

"It's the appropriate size for us," he said. "We like the location near City Market, and it's within walking distance of Mass Ave. And with the other development going up east of City Market (Flaherty & Collins' 28-story mixed-use project), we thought the area was a good, solid place to be downtown."

NRHA has 25 employees and 13,000 members. The United States has about 35,000 independently owned hardware stores, home-improvement centers and lumber yards, including stores under the Ace Hardware, True Value and Do it Best banners.