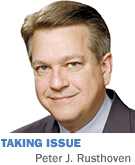 My friend and Taking Issues counterpart Sheila Kennedy and I disagree on many things. But Kennedy, who heads Indiana University's Center for Civic Literacy, is dead right about the woeful ignorance among Americans about our history and governmental system.
She noted in this space last week some of the disturbing data—"only 36 percent of Americans can name the three branches of government!"—while apologizing for sounding "like a broken record on the issue of civic knowledge."
She needn't apologize. It's a record we need to keep hearing until we fix what it's telling us.
Consider the ignorance revealed by a 2011 Newsweek survey:
• 88 percent didn't know any of the three authors of the Federalist Papers.
• 80 percent didn't know who was president during World War I.
• 73 percent didn't know what the Cold War was about.
• 61 percent didn't know how long a senator's term of office is.
The next two are worse:
• 33 percent didn't know the date of the Declaration of Independence—presumably thinking July 4 is "National Fireworks Day" (and yes, for fellow geeks, the Continental Congress declared independence on July 2, 1776, but approved the declaration two days later).
• 65 percent couldn't answer "What happened at the Constitutional Convention?" This is like not knowing, "Who wrote St. Paul's Epistle to the Romans?" or, "Who's buried in Grant's Tomb?"
In 2012, Xavier University's Center for the Study of the American Dream found similar results. One in three Americans failed a naturalization test passed by 97 percent of immigrants seeking citizenship. Four of five couldn't name two of the declaration's "unalienable rights."
In a story reporting on the Xavier survey, the Fort Wayne Journal Gazette also cited a 2010 study on how much time is devoted to basic social studies instruction during the first four years of a Hoosier student's education. The answer? About 21 minutes a week.
We are the only nation founded on a set of ideas about human freedom and how free people should govern themselves. As Kennedy has pointed out, "The only thing that really makes us Americans is this devotion to our ideals as a nation." If most of us become ignorant of those ideals and the governmental system that protects and preserves them, they won't survive.
The founders knew civic virtue was vital to their American experiment. Federalist author James Madison (the others were Alexander Hamilton and John Jay—but you knew that!) responded as follows to those who claimed the new Constitution couldn't work: "Were the pictures which have been drawn by the political jealousy of some among us, faithful likenesses of the human character, the inference would be that there is not sufficient virtue among men for self-government."
Madison disagreed. "As there is a degree of depravity in mankind which requires a certain degree of circumspection and distrust, so there are other qualities in human nature, which justify a certain portion of esteem and confidence. Republican government presupposes the existence of these qualities in a higher degree than any other form."
The civic virtue our system presupposes starts with baseline civic knowledge. Kennedy and I will surely continue to spar over lots of issues—at least until she sees the light! But I applaud her dedication to teaching Americans the history and system of which they're the beneficiaries.•
__________
Rusthoven, an Indianapolis attorney and graduate of Harvard College and Harvard Law School, was associate counsel to President Reagan. Send comments on this column to [email protected].
Please enable JavaScript to view this content.