Entrepreneur Santiago Jaramillo found himself in the living room of job prospect Adam Weber one weeknight in September 2012, pitching his 1-year-old application software company Bluebridge to the established sales executive and his wife. Weber, 31 at the time, had two children and a nice job with a digital marketing firm. Jaramillo, 22, had a vision.
"My wife opened it up by saying, 'So you just graduated college and you want to hire my husband?'" Weber recalled.
Yes, that was exactly what Jaramillo wanted.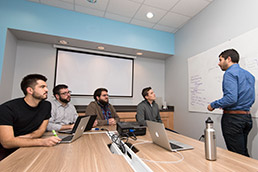 From left, Bluebridge employees Ian Illig, Brock Glaze, Ben Kinney and Seth Paladin listen to CEO Santiago Jaramillo's presentation. (IBJ photo/Eric Learned)
Weber is now head of sales at Bluebridge Digital LLC, and Jaramillo is still its CEO. The Fishers-based company creates and manages apps primarily for not-for-profit organizations, and it's one of the first app companies to operate on a subscription model. Bluebridge recently raised $1 million in venture capital and plans to double its workforce to about 50 next year.
The fact that Jaramillo, now 24, is already a CEO has come as a surprise to some, but not to those who know him well. The South American native is known for his unyielding drive and keen market perception, close acquaintances said. He was his own boss well before mobile apps and smartphones even existed. He started his first business at 7.
"There are a number of people you meet who, within that first meeting, you realize have the 'it' factor," said Tim Kopp, former chief marketing officer at Indianapolis-based ExactTarget Inc. Jaramillo interned there starting in the summer of 2010.
"It was probably that first meeting where I really had a feeling that this guy was going to be CEO of his own company one day," Kopp said. "Little did I know it would be just a few years later."
Long before being named to Inc. Magazine's 30-under-30 entrepreneurs list or getting venture capital support from Kopp and Aprimo founder Bill Godfrey, Jaramillo was a slim Colombian boy who sold five-gallon jugs of water to his neighbors.
Jaramillo
These days, he's dealing with problems like where to fit the next dozen or so employees he plans to hire by spring or where to move when Bluebridge reaches capacity. His brother Felipe Jaramillo, three years younger, suggested that luck wasn't the only factor in his brother's success.
"Luck has to be met with competence, drive and determination," he said.
An early entrepreneur
The Jaramillo family grew up outside of Cali, Colombia, in a well-off, secluded, community. They came to Florida in 2000 partly because a guerilla group kidnapped more than 100 people from their church at a service the year before. The Jaramillos happened to skip church that weekend, a rare absence for them.
No matter where he resided, Santiago Jaramillo has had a knack for entrepreneurial endeavors.
Tap water in his South American hometown wasn't deemed safe for consumption, and a Coca-Cola truck delivered water jugs to the front of the gated community.
At age 7, under his own initiative, family members said, Jaramillo used his little red wagon to deliver the hefty jugs to residents' doorsteps for a slight profit. He had glowing eyes; a tall, lean build; and could often be found in his green and gray school uniform, family members said.
"Any day of the week, he was available," said his mother Olga Jaramillo, 51, adding that she still has the red wagon.
She also has fliers from his other childhood ventures, including his hurricane-related window shutters business and his music lesson business. He started the shutter venture around 11 and started the lessons around 14. Jaramillo ran a couple of businesses in college at Indiana Wesleyan University in Marion, too.
"His ideas came from trying to figure out what the need is," his mother said.
Bridging the gap
The idea for Bluebridge came in the spring of 2011 after Jaramillo interned at ExactTarget, where he noticed a boom in mobile device usage.
"When I saw smartphones taking off, that was my calling," he said. "The fact that people are starting to use smartphones more than computers is the most fundamental shift that I've lived in my lifetime, and I want to be part of that."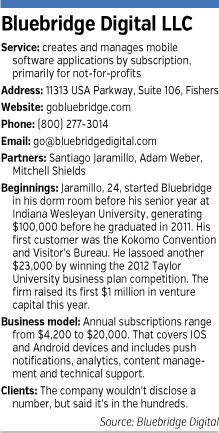 Jaramillo studied abroad in Australia in that spring, and worked for ExactTarget there as well. Even though he still had a year left at Indiana Wesleyan, he decided he wanted to move to Indianapolis and start a company in the mobile space. He didn't have a company name at that point.
Before heading to the United States, he detoured to New Zealand to clear his mind. His plan was to make a south-to-north trek of the country, which is split in two by the Cook Strait. The Bluebridge Ferry transports cars between the two islands. The name stuck.
Upon returning, he launched the company here, then ran it from Marion when classes resumed for the fall.
"Consumer usage is spent in apps and in smartphones, yet organizations have no idea what to do with them," Jaramillo said. "And they're not doing much with it. So we're bridging the gap."
Lessons learned
Before delving into tech, Jaramillo ran a moving and storage company in college called University Storage, through which he rented storage facilities in bulk and paid people to transport student valuables.
He did that for one summer in 2009 and things weren't so swell. He ran out of money to cover delivery expenses and had to fly to school early to deliver the items himself.
"That taught me great important lessons about cash flow, projecting cash flow and understanding expenses," he said, adding that he also learned he didn't want to go into transportation logistics.
"That was the philosophy early on: Get as much experience as possible. Fail as much as possible. Learn as much as possible. And that allows you to play at different levels of the game as your skills and knowledge increase."
Acquaintances said that and other experiences helped fashion Jaramillo into the person he is today—an ambitious entrepreneur who's confident but not boastful and is willing to take risks.
After graduation, he could have pursued safer paths. He passed up job offers from Google and ExactTarget to focus on his own business.
"He's a very scrappy person," Kopp said. "He'll do whatever it takes to win within ethical boundaries."
Almost pulled the plug
When Jaramillo got back from New Zealand in June 2011, he had free-lance developers on deck to work on apps, but he didn't make one sale that summer. One problem: He had no proof of his capabilities.
"You can promote the business on social media all you want," Jaramillo said. "If you don't have any sales, you don't have a business."
He made a news aggregator app and ultimately landed time in front of the Kokomo Convention and Visitors Bureau. It was one of those last-ditch efforts, he said, as he was getting ready to pull the plug on Bluebridge and start job hunting. The Kokomo CVB became his first client that November.
Before he graduated in the spring of 2012, Bluebridge went on to rake in $100,000 in revenue, which Jaramillo reinvested in the business. He also won $23,000 from Taylor University's business plan competition in 2012 and used that money "to essentially not take any jobs after college."
Some market traction
Jaramillo found Weber in 2012 after reading one of his blogs. The two set up a coffee meeting, where Jaramillo picked Weber's brain and shared his ideas for Bluebridge. Weber reached out to Jaramillo a few weeks later with ideas about how to scale the company. He, like Jaramillo, believed in selling apps as a service as opposed to just making them and leaving the maintenance to clients.
"So I mapped out this plan for him, I walked him through it, and I get finished and he's like, 'You've got to do it. I want you to do it with me,'" Weber said.
Weber quit his job at SpinWeb, taking a pay cut in the process, and joined Bluebridge that October. A month later, the company brought on Mitch Shields as the third partner, who leads the tech division and removed the need for free-lance developers.
Once the trio was together, Bluebridge's real liftoff came in January 2013, Jaramillo said. The company sold 110 app contracts in 2013 and closed the year with 13 employees.
"It was a really big year for us," Jaramillo said. "It confirmed our business model."
Strategic growth
The $1 million private equity offering was part of an effort to accelerate growth. Jaramillo said investors offered to put in an extra $400,000, but Bluebridge turned down the excess capital, which was debt that could be converted into equity.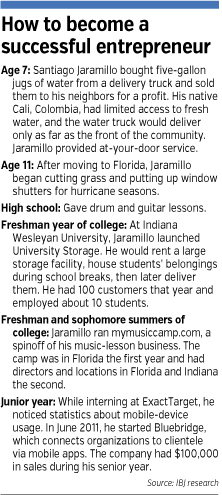 Besides the venture capital help, Bluebridge received taxpayer assistance. Last December, the Indiana Economic Development Corp. said it would grant Bluebridge $1.85 million in conditional tax credits and up to $50,000 in training grants based on Bluebridge's pledge to add 199 workers by 2022.
Bluebridge operates out of an office park off USA Parkway, where the town of Fishers initially subsidized some of its rent based on hiring commitments. Bluebridge paid $750 its first month in October 2013. This October, when the declining subsidies reach $0, Bluebridge is scheduled to pay $5,625 a month. The lease ends in August 2015.
Asked whether he planned to stay in Fishers—where the company also used the Launch Fishers coworking space—Jaramillo said the town has been great but, "We'll see."
Location is just one of the issues on the table. Overall, Jaramillo said, he's working to enhance the customer experience and guide growth strategically.
"Uncontrollable growth is just as big a problem—if not worse—than no growth," he said.
Nearly two years after signing on, Weber said he's more than satisfied with his decision. The concept had promise, and the market for Bluebridge was there. But what really sold him was Jaramillo.
"He has good vision. That was the key thing that stood out to me," Weber said. "He was pretty convinced on what he wanted to do, and there wasn't much that could shake that. And when people have vision like that, it's pretty contagious."•
Please enable JavaScript to view this content.