Paul Skjodt, owner of the now-dormant Indiana Ice hockey team, has secured an option on 92 acres in a busy northwest-side corridor for a $25 million multi-use sports complex.

Skjodt
Skjodt said if his proposed development on the southwest corner of the Interstate 465 and Michigan Road interchange comes to fruition, his United States Hockey League franchise will come back to life.
But the scope of the project goes far beyond hockey.
Skjodt is proposing a two-story, 250,000-square-foot facility on what used to be farmland owned by the families of Herbert Backer and Meyer Cohen. The building would be about three times the size of the Pan Am ice rinks downtown that the Ice last called home.
Developer Paul Skjodt envisions The Lyceum as more than a sports complex. He hopes it will be a family-oriented, community gathering place. (Rendering courtesy of Indiana Ice)
It would have three year-round ice rinks—one with seating for 4,800—and room for either eight basketball or 12 volleyball courts, plus a food court, locker rooms, educational and classroom areas, and at least 6,000 square feet of office space that Skjodt said he hopes will be used by not-for-profits.
The project also includes parking and extensions to 93rd Street and Robinson Road, which would create three access points: one each on the extended roads and another off 94th Street.
The building alone would cost $25 million, he said. Skjodt has a two-year option on the land, but declined to divulge the purchase price. He said the total cost of opening the complex, which he has named The Lyceum Park & Pavilion, would fall "well under" $50 million.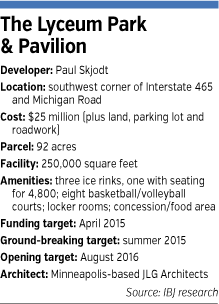 "We've been down the road of trying to build a Taj Mahal for $50 million, and we don't have any interest in doing that anymore," Skjodt told IBJ from his Carmel office. "What we're planning now is more like a community center than a Taj Mahal."
Skjodt hired Minneapolis-based JLG Architects as designer and hopes to have ground broken in about 10 months. If all goes well, he said, the project will be complete in August 2016, and the Ice will be back in play for the 2016-2017 season.
While the facility's operator will aim to attract travel hockey, hoops and volleyball tournaments and leagues, Skjodt promised the facility will often be open to the public. The new Grand Park in Westfield has been criticized for not letting local children use the facility outside formal, organized tournaments.
Before he opens the doors to children and families, Skjodt—husband of Cindy Simon Skjodt, daughter of the late shopping mall magnate Mel Simon—has to raise the money to build the facility, which he said will be owned by a still-unnamed not-for-profit.
Skjodt and his wife currently operate the Samerian Foundation Inc., a not-for-profit centered on education, youth sports, health and wellness, and humanitarian projects.
"I think this [facility] will do more than break even," Skjodt said. "I think it will make money. And we want to put all the proceeds back into the community."
Skjodt said he's in discussions with potential corporate partners, including three that are interested in naming rights. He declined to name the companies.
The complex will take only a bit more than half the 92-acre parcel. Skjodt said a second phase could be developed on the rest of the parcel, which does include some wetlands. On the developable part of the section south of 93rd Street, Skjodt envisions selling plots for commercial development.
Skjodt said he hopes to have blueprints for the sports complex completed within 60 days. He is organizing a fundraising committee and hopes to have funding in place by April, though he admits it could take longer.
At this point, he's not planning to solicit Simon Property Group Inc. or Pacers Sports & Entertainment—both run by members of his wife's family—adding that those organizations have their "own foundations and charitable causes." He said they could be involved in the project in other ways.
City support?
While the facility will be developed privately, Skjodt didn't rule out the possibility of seeking government assistance. He said he's gotten a "very positive response from various community leaders" regarding the project.
"At this time, it's really hard for us to say what we'd need or ask for as far as tax incentives and support in that sense," said Justin Hart, who still works for Skjodt as chief operating officer of the Indiana Ice. "Once we have more concrete conversations with the city and have a better understanding once the site plan is done, we can evaluate what might be needed."
Representatives for Mayor Greg Ballard said the mayor hasn't seen a proposal on this project yet, but that he would certainly be interested.
"Amateur sports is big business right now and has the potential to bring a lot of visitors to the region," said Marc Lotter, Ballard's spokesman. "If the developer thinks this project would be successful, we'd welcome it as we would any amateur sports in our city."
High demand for ice time
Skjodt has little doubt about demand for such a project.
"The metro area has close to 2 million people and five ice rinks," Skjodt said. "There's a major shortage of ice rinks here and the sports of ice hockey and figure skating have taken a major hit."
That hit was magnified when the Pan Am rinks downtown closed in June. That leaves the State Fairgrounds Coliseum, Perry Park on the city's south side, the Carmel Ice Skadium, Arctic Zone Iceplex in Westfield, and The Forum at Fishers as the area's only ice skating facilities.
"The [Indiana Youth Hockey Association] plays out of Carmel and the Arctic Zone right now, and we are tight on ice. It makes it very hard for us to grow the sport in this area because of it," said IYHA Executive Director Wendy Esterline. "We have to set limits on the number of kids we can take. And we hit those limits every year."
Adults are also looking for ice time, Esterline said.
"Pan Am is where a lot of the adult leagues and tournaments were held and where a number of figure skaters trained," she said.
Competitive forces
As much as Esterline would like to see another ice skating facility in central Indiana, she's not sure Skjodt's proposal is the right spot. She fears that it's too close to other rinks.
"Organizers are always trying to bring their events [to Indianapolis] because of the central location … but that specific area is pretty well covered and the existing teams and leagues have strong allegiances to the facilities where they already play," said Esterline, who has an office at the Carmel Ice Skadium.
David Morton, president of Indianapolis-based sports marketing consultancy Sunrise Sports Group, said he "likes the location."
"It's an area of concentration for hockey," said Morton, who has been involved in youth sports developments. "But I'd have to see a feasibility study and a business plan."
Morton said Skjodt will need "programming partners just as much as financial partners" to make his project fly.
Fuel enter market
Esterline is skeptical about the Ice's viability with the city's new minor-league hockey team, the Indy Fuel, starting play this fall.
"The Ice was a great team, but everyone who went to the Ice games are now buying Fuel tickets," Esterline said. "After being gone for a year, I think it could be really difficult for the Ice."
Skjodt said the Ice is an amateur team primarily aimed at getting young players college scholarships.
Besides, he said, his objective with The Lyceum goes beyond ice hockey, figure skating and even a sports complex.
"This is about providing educational and after-school opportunities for our children," he said. "It's about partnering with the area's non-profits to give our children better, healthier options. It's about providing a gathering place centered on family-oriented activities and community-service partnerships. If we can get some companies who believe in our vision, I know this is doable"•
Please enable JavaScript to view this content.