The Capital Improvement Board is headed for lean years, but it's not for a lack of resources.
The entity that oversees downtown convention and sports venues faces payment of two big debts. The first to come due will be $33.7 million in 2017 to investors in Circle Centre mall. The mall investors, including a group of companies with ties to Indianapolis, could have been paid off years ago, but they agreed to redirect profits into the construction of Bankers Life Fieldhouse.

Then in 2019 and 2020, CIB will repay two $9 million loans from the state of Indiana, which helped it out of a financial crisis five years ago.

CIB came into 2014 with more than $105 million in reserve, thanks to a series of tax hikes and bond refinancing that netted $30 million. While setting aside money for the looming debt payments, CIB has taken on more obligations—subsidizing the Indiana Pacers' operation of the fieldhouse and, on a smaller scale, helping the Indiana Sports Corp. create a maintenance fund for the natatorium at IUPUI.

Lathrop
So by 2020, CIB will have spent its reserve fund down to about $50 million. Chairwoman Ann Lathrop said tourism, which drives much of CIB's tax revenue, will remain stable over the next several years, and CIB can avoid catastrophe.

"I'm not telling you it won't get skinny, especially in '17, '18 and '19, especially with the mall investors and the two state loan repayments, but, yes, they're manageable," Lathrop told the board during an August meeting about the 2015 budget.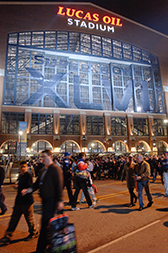 CIB's revenue from hotel taxes hit a record high in 2012 when Indianapolis hosted the Super Bowl. The organization's 2015 budget assumes more record-breaking years. (IBJ file photo)
CIB started eating into its reserves this year with $152 million in budgeted expenses, which exceeded revenue by $33.1 million.

For 2015, CIB budgeted $143.5 million in expenses on $121.1 million in revenue, generating a $22.4 million shortfall, again to be covered by reserves.

The deficits are driven by spending on building improvements—$15 million each year—at the Indiana Convention Center and the fieldhouse, plus ongoing subsidies for fieldhouse operations.

CIB also is making payments to the city of Indianapolis for public safety expenses, but those will decline next year from $6.2 million to $2.5 million.

Lifeline pays off

Taxpayers sent CIB almost $25 million in revenue last year that wasn't on the books before the 2009 crisis, when an outside auditor doubted whether the entity, a municipal corporation, would remain a "going concern."

In 2009, CIB was forced to pay almost $17 million to unwind an unfavorable credit-rate swap agreement, plus another $3 million related to bond insurance.

The swap deal was one of several that the city, along with municipalities across the country, entered into without realizing the risk that lay ahead with declining interest rates. Lathrop, appointed by Republican Mayor Greg Ballard, pointed out that the swaps were arranged under the administration of former Mayor Bart Peterson, a Democrat.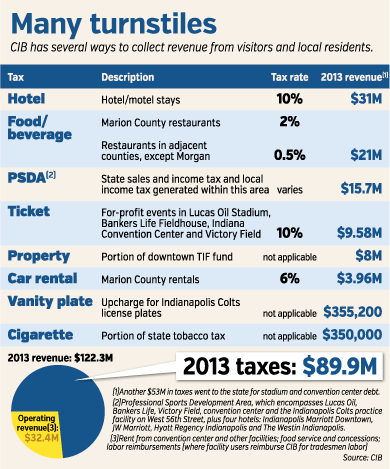 CIB opened the $719 million Lucas Oil Stadium in August 2008 with no additional sources of revenue for its operations. The Indianapolis Colts keep all game-day concessions, and the team is guaranteed a $3.5 million share of whatever CIB earns on non-Colts events. CIB also pays about $1.5 million a year in game-day expenses.

The state made the $18 million loans, and lawmakers provided for additional tax money.

The hotel tax rose one percentage point, to 10 percent, and four downtown hotels were added to the Professional Sports Development Area, which captures state sales and income tax revenue, plus local income tax revenue, for the benefit of CIB.

CIB's management held up its end of the bargain, slashing expenses and pursuing bond refinancing. The refinancing was critical, Lathrop said.

"But for that, we wouldn't be able to be investing in our facilities," she said.

Throughout its recovery, CIB kept up and actually increased funding for Visit Indy, the tourism marketing agency that keeps the convention center booked, or as Lathrop put it, "to make sure they could keep the revenue machine on."

Most of the Visit Indy funding, $8 million a year, now comes from the city's downtown tax-increment finance district, under a 2010 agreement with the Metropolitan Development Commission.

Should tax hikes sunset?

By the end of 2011, CIB netted $19.6 million from operations and had an $81.2 million reserve fund.

Yet in 2013, the Indianapolis City-County Council approved two more tourism-driven tax hikes, one on rental cars and the other on admissions to CIB's downtown venues. The second round of tax hikes was permitted under the 2009 legislation, but Sen. Mike Young said he was skeptical about whether CIB really needed them.

Young
A Marion County Republican, Young said he made sure the state's 2013 budget bill included language that will sunset all of CIB's tax increases, from 2009 forward, after 10 years. Lawmakers' intention, he said, was to provide a mechanism for repaying the state loans.

Young particularly objected to CIB's agreeing to share some of its revenue from the 2013 tax hikes with the city for public safety expenses.

State and local taxpayer support is one reason Moody's Investors Service gives CIB debt its fourth-highest rating, AA3, credit analyst Tatiana Killen said. CIB will spend $37.4 million on debt service next year.

The debt on the football stadium and Indiana Convention Center expansion, completed in 2011, is backed by the state and covered by a package of tax hikes passed in 2005. Those taxes last year generated $53 million, which flowed directly to the state for debt payment.

Of the $89.9 million that stayed in CIB's coffers, hotel taxes are the single-largest source of revenue, providing $31 million last year. Hotel revenue hit a record high in 2012 as Indianapolis hosted Super Bowl XLVI, and it stayed at that level through 2013, said James Wallis, executive vice president of Visit Indy.

"We're pacing ahead this year," Wallis said. "We're potentially on pace to set another record."

Wallis said he's not sure whether the high will continue beyond 2014. "Really, when you get out beyond that, it's hard to say because you don't know if there's going to be some significant event that affects the economy."

CIB's 2015 budget assumes 3-percent growth in hotel tax revenue over this year, meaning this year and next year would have to surpass the record revenue of a Super Bowl year. In 2017, the year to pay off the mall investors, CIB assumes 2-percent growth in hotel revenue.

Lathrop thinks it's safe to assume the revenue will keep growing because Visit Indy's convention bookings stretch to 2022, and the city is seeing more leisure travel.

If the city experiences the kind of revenue decline that hit in 2009, she said, "We've proved we can dial back the operating expenses."•