The 1987 demise of the federal Fairness Doctrine, which required broadcasters to air contrasting views, sparked an explosion of talk radio. With virtually all of the demand for the shows skewing conservative, Jeff Smulyan, a Democrat whose Emmis Communications Corp. owns radio stations relying on talk formats, has arrived at a principled acceptance of the phenomenon.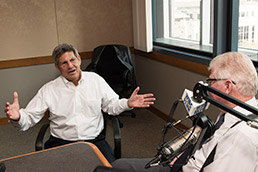 (IBJ photo/Eric Learned)
IBJ: Did you ever think conservative talk would become so popular?
SMULYAN: I was shocked. But why shouldn't the First Amendment apply to this business?
IBJ: If you could tailor a station to your politics, what would it sound like?
SMULYAN: I am an Indiana Democrat. I am liberal on social issues, whether it's gay marriage or a woman's right to choose. On economics, I'm more conservative. I'm sure some people in the Democratic Party think that I'm a Neanderthal on education. If the orthodoxy of the teachers' unions isn't working, we've gotta change our orthodoxy.
IBJ: Why hasn't liberal talk ever gotten a deep foothold?
SMULYAN: AM radio is pretty much the province of older white people. Most conservative people flock to talk radio. Liberals and more moderates flow to rock 'n' roll or NPR.
IBJ: Which of your talk hosts do you respect the most?
SMULYAN: I like Greg [Garrison]. We disagree, but I like Greg. And I respect Rush Limbaugh because I think Rush is a great entertainer.
IBJ: How does it feel to be a Democrat running a company whose radio stations, at least the talk shows, are dominated by Republicans and conservatives?
SMULYAN: When you're a broadcaster, you serve audiences. I take great pride in the fact that only in America can I allow points of view which are radically different than mine. I love that about us.
IBJ: Where do you draw the line? Is a show ever too conservative, where you feel they have gone over the top and you won't run it no matter how profitable it is?
SMULYAN: I believe in the First Amendment a lot more than I believe in anything else.
IBJ: How much of talk radio is what the hosts believe, and how much is entertainment?
SMULYAN: That's a great question, and I couldn't answer it. But clearly I think there is some of that. We're in show business.
Click here for other interviews.
 
Please enable JavaScript to view this content.