Doug Boles has been an IndyCar team owner, lawyer representing racing sponsors, and director of governmental and corporate affairs for former Mayor Steve Goldsmith. In 2007, he sold his ownership stake in Panther Racing and contemplated getting out of racing. Instead, he began working with racing sponsors before taking a job in 2010 as head of communications for Indianapolis Motor Speedway. In 2013, he was named president. Through it all, he continues to don his promoter hat.
IBJ: You've worked for the mayor of Indianapolis, you've owned an IndyCar team, and you're now the president of Indianapolis Motor Speedway. What's the toughest job you've ever had?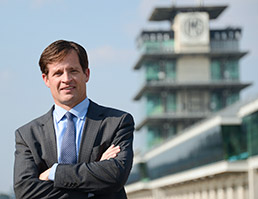 Doug Boles (Photo courtesy of Indianapolis Motor Speedway)
BOLES: Working with [Hulman & Co. CEO] Mark Miles is certainly one of the most challenging things I've ever done because he's non-stop, a hundred ideas a day, and very passionate about what he does. In some ways, he's very similar to working for the mayor. One of the things about Goldsmith is that he didn't sleep, so you worked 24 hours a day for him, and on some level Mark is the same way.
IBJ: Who's a tougher boss, Goldsmith or Miles?
BOLES: They both have the ability to grasp a problem or challenge almost instantaneously whether they know much about it or not. And neither one accepts the first answer you give them. They both constantly challenge you to make sure you've thought things through.
IBJ: What are some of the differences in their leadership qualities?
BOLES: Mark is really about consensus-building and trying to figure out how to get as many people involved as you can in a decision, so as the team moves forward everybody is on the same page. Steve oftentimes was so smart and understood what he was doing so well, he would know what the right answer was and the direction he would have to drag people. Ultimately, the team would figure out he knows where's he's going. The difference is, Steve was a little quicker to pull the train down the line without waiting for a car or two to get attached. Mark probably waits a little longer before he pulls out of the station.
IBJ: Are either of those guys as intense as [San Francisco 49ers Coach and Panther Racing part-owner] Jim Harbaugh?
BOLES: Jim used the race team as an escape. We didn't deal with the intensity with Jim that you see when he's coaching. Now race morning, when he'd get a fire suit on and get out on pit lane, he was intense. But for the most part, there was always a laugh following Jim around.
IBJ: Did you see in Harbaugh a deep desire to win?
BOLES: Dover in 1998 or '99, we had a yellow flag come out and our driver, Scott Goodyear, got run over by another driver that didn't realize the yellow had come out. After the race, our crew chief was really irritated so he went and found this driver's motor home and ends up getting in a fight in the motor home.
Harbaugh is walking by and he gets in the fight in the motor home and ends up pulling a hamstring and it ends up becoming a big issue. That's where you saw the intensity. Jim didn't know what had happened or what was going on; he just saw one of his guys in a yellow Pennzoil shirt in a fight and Jim was going to help him out. We did have one other issue like that. Jim was always quick to stand up next to his guys and support them.
IBJ: Did you take more arrows working for the mayor of Indianapolis or working for the Indianapolis Motor Speedway?
BOLES: At the Indianapolis Motor Speedway, you probably take more arrows. We have 300,000-ish people who show up for the Indianapolis 500 every May, and many of those people have invested 50, 60, 70 years of their life in that event, and they have clear ideas how it should go. That's your electorate, and they're quick to tell you when you're doing something wrong and they're quick to tell you they'd do a much better job than Mark Miles or Doug Boles or anybody here in the organization.
IBJ: This year, you've jumped out of an airplane to promote the MotoGP motorcycle race, camped out in a tent to promote camping opportunities at the IMS. What's the most outlandish publicity stunt you've ever considered to promote your race team, a race or a racing facility?
BOLES: Jumping out of the airplane was certainly out of the comfort zone. Pulling Nick Goepper around the Indianapolis Motor Speedway on his skis at 60 miles an hour and [having] our guys build a snow ramp so he could fly over the yard of bricks is up there.
He did a back flip over the yard of bricks. I thought to myself as I was pulling him behind a Tahoe down the back stretch, "This is going to be really, really good or really, really bad, but either way we're going to get a lot of publicity." He landed the jump and it ended up being played in 50 markets around the country that night and was played on "The Today Show" the next morning.
IBJ: What's the most disastrous promotion you've ever taken part in?
BOLES: It started out really disastrous but it ended up being classic, textbook PR. It was the announcement that Donald Trump would be the pace car driver for the 100th anniversary of the Indianapolis 500.
From the time we made the decision to the time we made the announcement, he began challenging [President] Obama on his birth certificate and he started toying with running for president, and we got unbelievable, terrible backlash from our fans. We thought we were just going to ride this out and see where it goes. It never relented.
We could have announced we were replacing the yard of bricks with a yard of hay, it didn't matter; everybody wanted to know when we were getting rid of Donald Trump. We couldn't talk about our event.
So we mutually agreed to move on and we asked A.J. Foyt to replace [Trump]. A.J. was the perfect pace car driver for that event. The fact that A.J. came in and replaced such a controversial figure, it was even bigger.
Click here for other interviews.
Please enable JavaScript to view this content.