For more than 20 years, throughout the 1980s and 1990s, Stanley Kahn was synonymous with lawyer advertising, whether on television, radio or the back cover of the phone book. His best-known slogan, "Sometimes the name says it all," was a staple on local airwaves. Kahn has scaled back his advertising, but says he has no plans to give up his law practice anytime soon. In fact, his caseload is as large as it's ever been.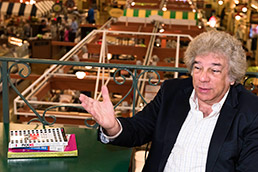 Stanley Kahn (IBJ photo/Eric Learned)
I'm originally from Baltimore. I had some friends who I went to law school with in D.C. [George Mason University]. They said, "Why don't you come out here and take the bar?" and so forth. I said I'd think about it, and I decided this was the place that had no advertising. It gave me an opportunity to be sort of a pioneer in that way, so I decided to come out here and open my practice and start advertising.
I had a one-room office in the former Peoples Bank building, and I can remember that the first thing I did was go to the WTLC radio station and buy some air time. And the very first commercial that I ran, someone called me and came in to see me and hired me to represent them. I believe that the case involved an automobile collision. That was in 1982.
I think I did the voice for the commercial myself. Specifically what it said, I don't remember that. [Advertising] was always something that I wanted to do. I felt like it was essential to reach out to people to let people know that lawyers were approachable. And it really worked. They reached back.
The first thing the Supreme Court had authorized in terms of advertising was radio advertising. So I did that, and shortly following the radio advertising, TV advertising became permissible, and so I did that. I was actually the first lawyer ever to do radio and TV in Indiana. I went to Channel 4 to make the first lawyer commercial on television in Indiana.
We tried to refresh the thoughts every so often, but there were hundreds of different spots. There were so many taglines. There were so many that I don't even remember them all.
It wasn't terribly warmly received by everybody. Lots of lawyers did not like it, but the public embraced it.
I was a newbie here and no one really knew me. I went from door to door to door of so many lawyers and I knocked on their doors asking if they would hire me, and they said no. So I guess they thought that I was just a new kid from back East, and they weren't interested in taking me on, so I tried it on my own. Without [advertising], I wouldn't have really had any practice, so I was grateful for that.
I think personal injury lawyers do great work for people. I think that when someone unfortunately chooses to level that name [ambulance chaser], I don't think that's well-placed. I see the work that personal-injury lawyers do for people and they have done so much good for people who have been injured by other people's negligence or by products that are defective and [the attorneys] have changed the course of people's lives because of it.
I love what I do and I love the contact that I have with clients and with people. I've formed lots of great relationships and bonds with clients over the years.
Click here for other interviews.
Please enable JavaScript to view this content.