A planned $20 million senior housing and retail project could help breathe new life into a blighted area north of downtown that's sorely in need of investment.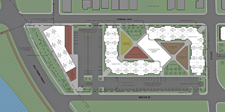 The Mapleton-Fall Creek Development Corp. is partnering with local affordable housing developer BWI Development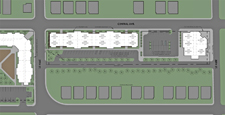 & Management Inc. to build the project. It would extend from Fall Creek Parkway north to 30th Street and be bounded by Ruckle Street to the east and Central Avenue to the west.
The community development corporation received approval Oct. 1 from the city to rezone nearly five acres consisting of 25 lots that the CDC has accumulated through purchases in recent years to make way for the project. (Click on the images above to see larger versions of the maps).
Mapleton-Fall Creek and BWI are seeking financing for the development, which would represent the area's largest investment in decades. If all goes well, construction could start next year and finish in 2017, said Leigh Riley Evans, CEO of the Mapleton-Fall Creek Development Corp.
"This will be this organization's first development of this magnitude," she said. "The 30th Street and Central corridors are among our top corridors for redevelopment."
The six-building project would include 158 units of affordable and market-rate housing ranging from one to three bedrooms, in addition to about 19,000 square feet of retail.
The buildings would stand three stories, except for a one-level, 8,500-square-foot community center at the heart of the development.
Most of the retail space, more than 12,000 square feet on the ground floor, would front Fall Creek Parkway. Another 6,500 square feet would anchor the southeast corner of 30th Street and Central Avenue to the north.
The Mapleton-Fall Creek CDC considered several potential uses for the land and determined senior housing made the most sense, Evans said. Indianapolis-based Cripe is the project architect.
"We want it to be for seniors and children," she said. "We're finding that a lot of grandparents are raising their grandchildren."
The CDC began exploring ways to stabilize the neighborhood in 2008, before Evans' arrival as CEO in 2012. It held a series of community meetings to gather input, and developed a quality-of-life plan and market study.
Overall, the organization is targeting improvements for 27 acres extending from Fall Creek Parkway to 32nd Street and from College Avenue to New Jersey Street. The plan, dubbed Vision 20/21, establishes guidelines to spur economic development by those years.
The land on which the mixed-use project would be built sits within the North Midtown tax-increment financing district, which the city established in 2013 to help attract private investment to the area.
BWI, the developer partnering with the Mapleton Fall Creek CDC, is no stranger to affordable housing projects.
Its $10.7 million Clifton Square development on West 30th Street, in partnership with the not-for-profit Local Initiatives Support Corp., consists of 57 units for seniors and should be finished in November.
BWI also is working on a $10 million housing project at 1415 N. Pennsylvania St. that includes adding a fourth story to a vacant building. Dubbed Penn Place, the project will cater to homeless residents with serious mental health and substance abuse problems.
"We've had success working with other CDCs, but this will be our first one with Mapleton," BWI President Gary Hobbs said. "Ultimately, we think it's going to be a spark to revitalize that area."
The Mapleton-Fall Creek CDC acquired the properties from private owners or through the Indianapolis Land Bank, a municipal agency that handles the disposition of vacant and tax-delinquent homes that fall into city hands.
Since 2010, the organization has rehabbed or rebuilt more than 50 homes in the neighborhood. It also persuaded the city to convert a stretch of Central Avenue, from 34th Street to Fall Creek Parkway, from one-way to two-way traffic to help attract businesses.  
Please enable JavaScript to view this content.