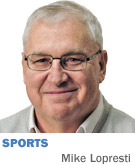 SOUTH BEND—Autumn has come to Notre Dame. It is a see-your-breath Saturday morning, and the assignment is to wander the campus before kickoff to find out what makes a football weekend here so special. A trip combining visits to the Vatican, the Grand Canyon and Disney World.
And so, one game day at the University of Notre Dame.
9 a.m.: Fifteen cars and SUVs are parked in Highland Cemetery, three miles from campus. Have I wandered into a funeral? No, we are at Knute Rockne's grave. A group meets there once a year to listen to past players speak, and to pay homage to a man who died more than 83 years ago but who put Notre Dame on the map.
"It's why," former guard Chris Stewart tells the assembled, "we're standing here on a freezing cold morning, honoring his legacy."
Terry Hanratty, once an Irish and Pittsburgh Steeler quarterback, also speaks and says, "This man will live forever." Then everyone toasts Rockne with Irish whiskey, and a boom box plays the Notre Dame Victory March and one of Rockne's speeches.
10:15 a.m.: Five hours before kickoff, the aisles are packed at Hammes Bookstore. Someone is selling a CD, "Irish Lullabies," while Rudy Ruettiger is signing his book, and a guy on a piano is playing the Victory March.
You can also get the newest version of The Shirt for $18. Every year, a student committee comes up with a slogan and markets the shirts for charity. Last season, they sold 156,000 of them. This year's model has "Then, Now, Forever," on the front.
11:30 a.m.: The bagpipes are playing "Amazing Grace" in front of the Golden Dome. Trivia note: The Dome was regilded nine years ago and needed only a fistful of gold leaf for the entire top.
Noon: Campus organizations know a bonanza when they see one. Hence, all the food stands. You can get a hamburger from the Engineers Without Borders, a cupcake from the Model United Nations, or maybe something from the College Republicans, where one of the workers keeps shouting to passers-by, "Eat a brat for freedom."
But the hot spot is on the South Quad, where the Knights of Columbus has been selling steak sandwiches since 1973.
12:40 p.m.: The glee club, standing in front of Touchdown Jesus, breaks into an Irish medley. Did you know Touchdown Jesus is 132 feet high and has 81 different stones from 16 different countries? I didn't either.
1:15 p.m.: The practice field, normally closed to outsiders, is open to the public on game day, and fathers and sons are playing catch on the same turf where the Irish prepared for Stanford.
Across the street is a plaque on a rock, in memory of Declan Sullivan, a student photographer who was killed while filming practice from a temporary tower in high winds in 2010. Notice that the towers are now permanent.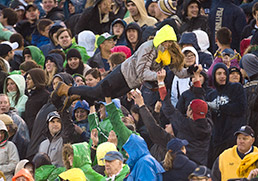 One of Notre Dame's countless traditions involves fan "push-ups" in the student section after every touchdown. (AP Photo)
1:25 p.m.: Thousands line up for the team walk on a winding route, past Touchdown Jesus, and into the stadium. After the Irish pass, a father turns to his son and says, "Did you see Everett (as in quarterback Golson)?''
The boy nods, and father and son high-five. And that's why there's a team walk.
1:30 p.m.: The alumni band, of all ages and instruments, starts the march from the dome toward the stadium. You haven't seen a marching band until you've seen an AARP member with a tuba.
1:45 p.m.: A steady crowd rolls into the Basilica, which is the one place this cold afternoon everyone has to lose their ski caps. A sign informs that mass is held 30 minutes after every home game. Meanwhile, the longest line of the day is the one waiting to light candles at the Grotto.
2 p.m.: The marching band plays its usual pre-game concert on the steps of Bond Hall. Then everyone hustles over to the Golden Dome and hurries up the steps. There is scurrying, pushing, fighting for position. If the Irish defense plays this hard, Stanford is in trouble.
It's all to get one of the prime viewing spots for the trumpets under the dome, a brief selection by the band's trumpeters. As they belt out a familiar tune, a thought occurs: I have now heard this day the Victory March by voice, trumpet, trombone, bagpipes, piano and boom box.
3:15 p.m.: Oh, yeah, there's a football game at the end of all this. Welcome to the 440th kickoff in Notre Dame Stadium history, and the 240th consecutive sellout, going back to Thanksgiving Day 1973, against Air Force. But that doesn't mean there is no chance to see a game. Earlier this morning, there had been a line at the ticket window, with people waiting to buy tickets turned in by Stanford. You just have to be early, and lucky.
3:30 p.m.: The nine stripes in each end zone slant toward the Golden Dome. No accident. The 18 stripes are angled at 42 degrees, which combines the 18 and the 42 in Notre Dame's founding year. History is always in plain sight here.
7:09 p.m.: The Irish beat Stanford with a last-minute touchdown, and the players head for the northwest corner to sing the alma mater with their fellow students. Then the crowd takes its roar onto the campus.
It is cold, it is rainy, it is miserable. But nobody minds much. It is game day at Notre Dame.•
__________
Lopresti is a lifelong resident of Richmond and a graduate of Ball State University. He was a columnist for USA Today and Gannett newspapers for 31 years; he covered 34 Final Fours, 30 Super Bowls, 32 World Series and 16 Olympics. His column appears weekly. He can be reached at mlopresti@ibj.com.
Please enable JavaScript to view this content.