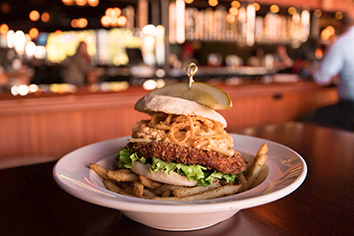 Expectations can affect a dining experience almost as much as food, service and atmosphere. Most people who eat at McDonald's, for instance, are satisfied because they know just what to expect. That doesn't make the food good; it just makes the experience satisfactory.
Keep that in mind as I share that HopCat (6280 N. College Ave., 565-4236), the restaurant that anchors the parking garage at the intersection of College and Broad Ripple avenues and Westfield Boulevard, far exceeded my expectations.
Why did I have low expectations of this first-location-outside-of-Michigan chain in the first place? Because of its creepy-cat-holding-a-brew logo, its party-district location, its non-local pedigree (the company is based in Grand Rapids), its going-on-forever-size interior, and the lack of buzz reaching my ears, HopCat kept sliding down on my list of restaurants I hoped to cover in this column. And I'm not alone. I hadn't seen much attention focused on it by other local food scribes, either.
Perhaps I should cultivate more bar-hopping Broad Ripple dwellers as contacts.
Whatever the case, I went in open to the experience but ready for standard bar-food fare. What I got were Loaded Pretzel Nuggz ($9), with about a dozen buttered dough nuggets in a cheese sauce with cherry smoked bacon, red onion and jalapenos. Trust me, it was difficult to save two for the guest at our table who was in the rest room when they arrived.
A Black Bean Burrito ($9.50) might not have been the smartest dish to pair with the Veggie Chili ($4.25/$5.25) since the innards of the former were a variation on the latter, but independently, either would have worked. Less effective was the Damn Good Fish Sandwich ($10.25) that, due to oversalting, didn't live up to its name. The Crack Fries that accompanied it, however, proved wisely named ($4.25 if ordered separately, $7.50 if Loaded or Sloppy).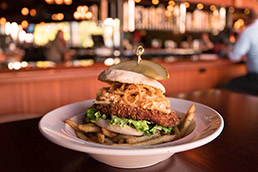 HopCat's tenderloin comes piled with haystack onions and blue cheese slaw, all sandwiched within an English muffin. (IBJ Photo/ Eric Learned)
Better was the I Am the Pork Sandwich That Knocks in the Night ($11.95). While the "Breaking Bad" reference might require menu updating soon, the sandwich itself won't. A typically oversized pretzel-breaded tenderloin gets dressed with Swiss cheese, a bit too much barbecue blue cheese slaw, lettuce, tomato and haystack onions, all on a surprisingly well serving English muffin. Best proved The Grand Royale ($10.25), featuring house-made sloppy Joe (here upgraded to sloppy Joseph) and cheese sauce on a brioche bun, all a far distant cousin to what you might remember from your school cafeteria days.
Added fun comes from dessert, where the kitchen comes up with a new creation monthly. Our October offering didn't have a name yet, but in honor of Halloween it consisted of a pumpkin cupcake with a shard of candy "glass" and a spillage of food-colored blood.
Adding further to the fun are 130 beer taps. HopCat is 21 and over after 10 p.m. Before then, kids are allowed in with their parents (HopCat is emphatic about stating "not just a friend who is over 21").
I'll go again. I only hope I didn't raise your expectations too high.•
Please enable JavaScript to view this content.