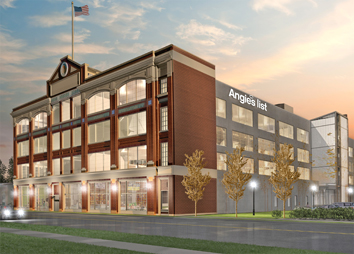 Angie's List plans to spend about $40 million to expand its headquarters campus on the east side of downtown and create 1,000 jobs with the help of more than $25 million in state and city incentives, according to a joint announcement Tuesday.
The Indianapolis-based consumer-review firm said that the expansion of its headquarters campus would include renovating a nearby, 176,000-square-foot Ford manufacturing facility currently owned by Indianapolis Public Schools. It also would build a 1,000-space parking facility across from its campus at 1030 E. Washington St.
As part of the plan, it would bring about 800 current employees who work elsewhere in the city to the campus. In addition, it would hire another 1,000 employees by 2019.
The campus has been an economic anchor for the transitional Holy Cross neighborhood on the near-east side.
"Angie's List expansion of its headquarters campus and addition of jobs is tremendous news for our economy and the near-east side," said Indianapolis Mayor Greg Ballard. "The commitment of Angie's List to Indianapolis will continue to anchor the redevelopment of this area and help attract bright people to live in Indianapolis."
The Indiana Economic Development Corporation has offered Angie's List up to $6.5 million in tax credits and up to $500,000 in training grants based on the company's job creation plans. These tax credits are performance-based, meaning they cannot be claimed until emplpoyees are hired.
In addition, the IEDC said it will provide the city of Indianapolis with up to $2 million in infrastructure assistance from the state's Industrial Development Grant Fund.
The City of Indianapolis will consider additional incentives, including $9.6 million in assistance from the downtown tax increment finance district for construction of the parking garage and $6.75 million to Indianapolis Public Schools to offset the cost of relocating from the former Ford facility.
The Ford building would be ready for occupancy by 2017, and the parking garage—located just west of the Ford building—would be ready for use in 2016. In addition to those major projects, Angie's List plans to make improvement to existing buildings on its campus.
In 19 years, the company has never turned an annual profit. Last month, it laid off 97 members of its sales force. Angie's List has alternated between hiring sprees and rounds of layoffs for several years.
Prior to the August layoffs, the firm's most recently disclosed employment number was around 2,000 workers, about 1,200 of which were in sales, according to a spokeswoman.
In its most recent financial quarter, the company lost $18.4 million. That represented a significantly bigger loss than in the same quarter in 2013, during which the firm lost $14.3 million.
Last month, Financial Times reported that the company had hired investment bankers to explore strategic options, including a sale. Industry observers have said the Angie's List might pique the interest of companies like Amazon.com, Yelp and the website holding company IAC.
An Angie's List spokeswoman said last month the company had no comment on the report because it does not respond to "rumors."
Angie's List recently reported that total paid memberships reached 2.8 million as of June 30, a rise of 31 percent over a year earlier. While a pioneer in consumer reviews of service contractors, Angie's List has faced increased competition in recent years from rivals such as Yelp, Porch.com and Google Local.  Unlike Angie's List, those sites don't require consumers to purchase paid memberships.
This story will be updated.
 
Please enable JavaScript to view this content.