With the loss of Lance Stephenson to free agency and the serious leg injury to Paul George, there are numerous questions about how the Indiana Pacers will do on the court this season.

But on the business side, victories are piling up.

Despite predictions of the Pacers' on-court demise—Las Vegas bookmakers have them pegged for 33 wins, 23 fewer than last year—the team's season-ticket renewal rate is 94 percent. Overall ticket sales are 15 percent higher than the same time last year, sponsorship sales are up 9 percent, and preseason merchandise sales are 25 percent ahead of last year, according to Pacers officials. Those gains come on the heels of double-digit increases a year ago.
The team's annual Fan Jam held Oct. 5 at Bankers Life Fieldhouse had record attendance of 7,800, a 30-percent increase over last year. The team also posted two days of record traffic on its website recently. One of those days was shortly after George's injury, when a get-well campaign for the injured player was posted; another happened when video of George shooting baskets without his leg cast went online earlier this month.

While Pacers sales chief Todd Taylor admits he has tempered his goal of selling out all 41 regular-season home games, he's confident he and his staff can at least match last year's mark of 28 home sellouts. The team has been on a tear, increasing its number of sellouts by 22 in two years and increasing per-game attendance by 3,332 during that same period.

Indianapolis-based sports marketing consultant Milt Thompson said the Pacers' last two seasons—which both resulted in trips to the Eastern Conference Finals—have earned them some goodwill among followers.

Loyalty fears

Loyalty may take the Pacers only so far, however.

"Indianapolis is a small, financially conservative market," said Richard Sheehan, a business professor at the University of Notre Dame whose areas of study include the economics of sports. "If the losses mount, it could get tough."

It did get tough for the Indianapolis Colts when quarterback Peyton Manning went out with a neck injury just before the 2011 season. The Colts finished that season 2-14, and season-ticket renewals dropped six percentage points, to 87 percent. The team's season-ticket waiting list dwindled, leaving the franchise with thousands of tickets to sell during the 2012 season.

Only the emergence of No. 1 overall draft pick Andrew Luck as Manning's worthy replacement saved the Colts' lengthy sellout streak in 2012, when the Colts registered a surprising 11-5 record and made the playoffs.

"Sports fans can certainly be fickle, and maybe especially so in the central Indiana market," Sheehan said.

Pacers fans in the past have not been bashful about showing the team how they feel. Following the brawl in Detroit in 2004 and a rash of player misconduct, the team's home attendance plummeted to a league-low 12,222 during the 2007-2008 season. There was only one sellout that year.

A string of losing seasons compounded the problem. It took more than four years for the team to rebuild fans' trust and begin bolstering attendance in a significant way.

Longer leash

Fans appear to be giving this regime a longer leash. Last year, when the team struggled during the second half of the season and in the early rounds of the playoffs, fans continued to fill Bankers Life Fieldhouse and renew and buy season tickets.

With a strong post-season sales push last year, the Pacers for the first time in a decade sold out the first seven rows of the lower bowl with full- and half-season ticket packages.

There are no sellouts yet this season. Taylor should get a good indication of demand soon; single-game tickets went on sale Oct. 16.

Luxury suite sales have been strong. All 28 suites on the Founders Level are sold and about half of the 43 remaining suites are sold. Eight to 10 of them will be held to sell on a game-by-game basis.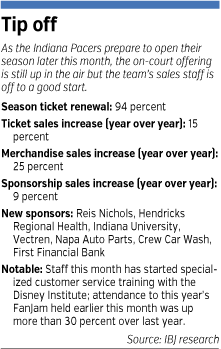 To maintain fan loyalty, Pacers officials have put a renewed emphasis on customer service. This summer, Pacers senior staffers spent three months training with the Disney Institute, a division of the Walt Disney Co. that focuses on customer service consulting.

Together, Pacers and Disney officials custom-designed a system to improve customer service at Pacers games and better reward employees for superior customer service.

Good riddance to Lance?

Of course, players on the roster have an impact on attendance. There was concern from a sales standpoint about Stephenson's departure and George's injury and the cast of lesser-nown players who will replace them.

Stephenson's departure for a more lucrative contract in Charlotte, N.C., had little effect on the team's sales efforts, Taylor said.

"He's an entertaining player, but plenty of people thought our team makeup could improve without him," Taylor said. "That's what our sales reps were hearing from ticket holders."

George's injury was a different story. "Anytime you lose a player of Paul's caliber, that's going to have an impact," Taylor said. George broke his right leg Aug. 1 in Las Vegas while scrimmaging with Team USA in preparation for the FIBA World Cup.

"Our sales reps were flooded with calls in the first few days after Paul's injury. Everyone wanted to know how Paul was doing and what his prognosis was," Taylor added.

Taylor thinks several factors muted the impact. Pacers fans' faith in Bird's ability to spot talent and put together a competitive roster mitigated the hysteria, he said. The doctor's proclamation that George should make a full recovery also helped stabilize the fan base. And the site of George at the team's media day Sept. 29 walking without a leg cast further bolstered fans' optimism that the all-star could return late this season.

Team-centered marketing

Despite the absence of two of its biggest stars from last year, the Pacers marketing plan won't change much. The emphasis will continue to be on the team.

Paul George will still be featured in ads and marketing materials, but George Hill's role is likely to be elevated along with the already prominently featured Roy Hibbert and David West. Posters of Hill, Hibbert and West are being placed on elevators and in other prominent areas of Bankers Life Fieldhouse. And if another player takes off—say Rodney Stuckey or Solomon Hill—Taylor said the marketing staff is ready to alter its plan.

Already, Taylor has met with Bird and General Manager Kevin Pritchard to get their perspective on "who they are high on." Taylor declined to say what he divined from that conversation , but said the duo is definitely excited about some of the team's lesser-known players entering this season.

Thompson thinks the biggest story line coming into this season is the possibility of a much bigger role for George Hill, along with the potential emergence of Solomon Hill, Stuckey, C.J. Miles and C.J. Watson, all of whom are 30 or younger.

"We would never go away from our team concept," Taylor said, "but if someone came out of the gate quickly, we'd make sure the community gets to know them."•