Neighborhood organizations attempting to revitalize the blighted East Washington Street corridor are cheering plans by Angie's List to expand its campus by renovating a former auto factory.

But some commercial real estate brokers wonder whether the area's revival relies too much on Angie's List. If the company were to depart, would another tenant step in?

The company plans to spend $40 million to renovate the 176,000-square-foot former Ford manufacturing facility owned by Indianapolis Public Schools, and build an adjacent 1,000-space parking garage. The project comes with a promise of 1,000 new jobs and a package of more than $25 million in state and city incentives.

The building, with all its historic character, would be ready for occupancy by 2017.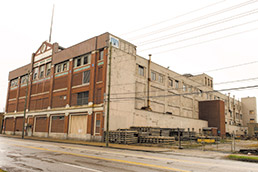 Angie's List plans to rehab a former Ford factory near its campus on East Washington Street that hasn't been occupied in decades, as part of a $40 million expansion. (IBJ photo/Eric Learned)
"It takes a building that basically has been unused since the 1950s and will make it the largest and most heavily used building in that corridor," said Bill Taft, executive director of the not-for-profit Local Initiatives Support Corp. "I think it's a great momentum-builder for East Washington Street that will really change people's perceptions of that area."

But not everyone is convinced the project will bolster the market as a whole.

"There's no reason to jump over [Interstate 65] to develop new office space," said Jeff Harris, president of NAI Meridian. "While it may work for an individual company [like Angie's List], I don't see any reason why others would follow suit."

The interstate historically has hindered development to the east of downtown by acting as a buffer that isolates it from much of the activity in the core.
The Local Initiatives Support Corp. is hoping to change that by partnering with the Englewood Community Development Corp. to create a plan that focuses on a four-mile stretch from Interstate 65 to Sherman Drive.

Small submarket

The east-side office submarket is the smallest in the Indianapolis area by far. With 238,130 square feet of inventory, it boasts just five multitenant buildings, Cassidy Turley statistics show. The vacancy rate stands at 6.1 percent, much lower than downtown's 20.8 percent. But downtown's inventory is 10.5 million square feet.

Angie's List is based in a village-like campus just east of the Interstate 65/70 split and north of Washington Street. The company spent $8 million in recent years to renovate and expand the campus, where about 1,000 people work.

The company also leases space in the Landmark Center at 1099 N. Meridian St. as part of a consolidation earlier this year of its off-campus offices. About 800 employees work there.

Its lease allows Angie's List to vacate the space after a few years, said Aasif Bade, president of Ambrose Property Group, which owns the 12-story office building. The employees at the Landmark likely will move to the renovated Ford manufacturing facility.

"From Day One, Angie's List has expressed their commitment for the east side of downtown and Landmark provided a good midterm solution as their company progressed," Bade said. "There are no surprises there."

While downtown towers are struggling to lure new tenants, buildings like the one Angie's List is targeting for redevelopment on East Washington Street are in high demand, particularly by startups and tech companies looking for trendier space.

Replacement prospects?

The Financial Times reported last month that the publicly traded company had hired investment bankers to explore strategic options, including a sale. It's unclear if or how a new owner might alter its workforce or expansion strategy.

If Angie's List were to vacate the renovated Ford plant, the company would have little problem backfilling the space, contends Ralph Balber, who left Newmark Knight Frank Halakar as an owner a few months ago to start Alo Property Group.

"A lot of people want these unique urban environments that have character," he said. "They want that creative space—that loft feel."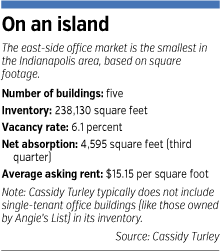 But another broker who knows the area predicted it would require a lengthy search to find another tenant for the former Ford factory—given its location and immediate surroundings.

Balber is the listing agent on a vacant 8,000-square-foot building at 1050 E. Washington St., in the heart of the Angie's List campus. The company leased space there for a few years and attempted to purchase the building but couldn't come to terms with the owner, Balber said.

He's already received three inquiries about the property, listed for $900,000, just since Angie's List announced its expansion.

"Maybe I'm an optimist, but with all those employees there, you're going to see more retail coming, and with more retail, you're going to see more office," Balber said. "It seems like a good play to me; it's in the path of progress."

As part of plans to revitalize the corridor, the Englewood CDC and TWG Development Inc. plan to build affordable senior apartments on three acres between South Parker Avenue and South Gray Street that is part of the P.R. Mallory industrial complex. Construction on the first phase of Oxford Place should start in the spring.

Across the street, Englewood opened the Tlaolli Mexican Cuisine restaurant. Just to the east, the organization hopes to launch a Puerto Rican-themed deli and bakery in the front of a building that houses shared-work space anchored by Osborn Design & Craft.

In addition, a $2 million renovation is in the works for the East Washington branch of the Indianapolis Public Library, and Englewood Christian Church plans to double the size of its Daystar child care with a $700,000 expansion.

A larger Angie's List presence can only help Englewood's ReEnergize East Washington Street plan, said Joe Bowling, executive director of the CDC.

"You're so close to downtown, and the cost of occupancy is so low there," he said. "You start to put those things together and it starts to paint a pretty good picture along East Washington Street."•