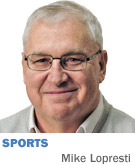 Oops, we missed Lucas Oil Stadium's birthday again, so a belated happy 6th. If it were a child, it'd be watching SpongeBob SquarePants right now.
As it is, the fifth youngest NFL stadium—84 years younger than that geezer, Soldier Field—is a precocious tyke, with a lot of interests. That thought came to mind the other day while watching a pack of high school games use the facility. Many NFL stadia wouldn't be caught dead with such a thing.
This might be the place Peyton Manning became big enough to make TV commercials, but it is also the place Brownstown Central Principal Joe Sheffer competed in a field goal contest during his team's recent game. And Pioneer Athletic Director Mike Johnson dressed up as a Panther for a team video. And Portage Athletic Director Kelly Bermes stood in the end zone and gazed up at 200 members of her town's Pop Warner league who had made the trek.
And why not? A lot of the parents from a lot of the high schools who have played in Lucas Oil Stadium sent tax money into the project. It might be the house Peyton Manning built, but they helped pay for it. So good for Plainfield, that it beat Danville on the same field the New York Giants won the Super Bowl.
(We pause here to mourn Butler's decision to shut off Hinkle Fieldhouse to IHSAA tournaments. Neither Bobby Plump nor Jimmy Chitwood could hit a last shot there now. Bad call, but we digress.)
Lucas Oil Stadium remains home not only to the Colts, but also to moments that mark our lives. There have been proms on the concourse, wedding receptions in the luxury suites and high school graduations in the end zone.
From that first game on Aug. 22, 2008—not the Colts; Fishers beat Noblesville 31-6—through the frenzied infancy. Lucas Oil hosted 120 events in its first 120 days, and as director Mike Fox mentioned, "It made the five years of planning and building worth it. But from June 1 to Christmas, 2008, we had five staff members end up in the hospital because of stress."
He has seen events come and go since, from packing them in for prayer services to putting down real grass for a soccer match to Bill Belichick's fourth down gamble blowing up in his face like an exploding cigar. Fox will see another Final Four here in April.
To mark the 6th birthday, here are 10 memorable games in the young life of Lucas Oil Stadium:
No. 10.  Sept. 7, 2008. Opening night. The stadium is electric. The offense is not. Colts lose to Chicago 29-13 and Fox is just glad drainage issues with the roof—which had been guaranteed to withstand a 100-year rain—don't turn Lucas Oil into Eagle Creek reservoir. "Apparently," he said, "we had two 100-year rains within 30 days."
No. 9. Dec. 27, 2009. The Colts are 14-0 and leading the New York Jets 15-10 with 5:36 left in the third quarter. That's when Jim Caldwell decides to rest his troops for the playoffs, and takes out Manning and several other starters. The Colts lose 29-15, and the boos carry to Kokomo. "We follow orders," Manning says afterward.
No. 8. Jan. 8, 2011. The Jets knock Indianapolis out of the playoffs with a field goal at the gun, 17-16. Nobody knows an era is ending as well as a season. It is Manning's last active game as a Colt.
No. 7. Dec. 30, 2012. The Colts beat Houston 28-16, but never mind that. On the sideline, returning from his battle against leukemia, is Chuck Pagano. "There's a lot to celebrate," Pagano says. "A not-a-dry-eye-in-the-house-moment," Fox adds.
No. 6. March 31, 2013. Kevin Ware shatters his leg in the Louisville-Duke regional championship, and an entire nation cringes.
No. 5. Oct. 20, 2013. Peyton Manning's return is the most anticipated since General MacArthur went back to the Philippines. The roof is open (one of only 15 open-roof regular season games the first six years) to annoy Manning, who prefers it closed. Then the Colts start sacking him. So much for sentimentality. Indianapolis beats Denver, 39-33.
No. 4. April 5, 2010. The final seconds of the national basketball championship game, Duke ahead 61-59, Butler's Gordon Hayward with one last prayer of a shot. It could be Hoosiers II. But you know the rest.
No. 3. Jan. 4, 2014. The Colts pull off the second biggest comeback in NFL playoff history, from trailing Kansas City 38-10 in the third quarter to winning 45-44.
No. 2. Jan. 24, 2010.  Another AFC Championship game win – 30-17 over the Jets – another Super Bowl trip. It is Manning's last postseason victory as a Colt.
No. 1. Feb. 5, 2012. Super Bowl XLVI, and presumably the city leaders are still sending Mother Nature roses every Mother's Day for the great weather. The Giants beat the Patriots in the last minute, 21-17. And Madonna at halftime!
Lucas Oil looked great that day. It looks just as good when the kids are playing.•
__________
Lopresti is a lifelong resident of Richmond and a graduate of Ball State University. He was a columnist for USA Today and Gannett newspapers for 31 years; he covered 34 Final Fours, 30 Super Bowls, 32 World Series and 16 Olympics. His column appears weekly. He can be reached at mlopresti@ibj.com.
Please enable JavaScript to view this content.