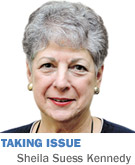 It's easy to get discouraged these days—to look at the overwhelming evidence of social and political dysfunction and retreat into Angry Old Person territory. But every once in a while, it's important to acknowledge the multiplying efforts of younger folks to improve our communities and (grandiose as it may sound) save our planet.
My own students give me reason to hope for a saner, more civil policy process once we old folks get out of the way. Another positive sign is the changing character of activism. Although in-your-face demonstrations garner more headlines, the real (and underreported) news is the highly collaborative, constructive approach taken by so many younger leaders of today's most active social movements.
A local example is the Hoosier Environmental Council.
On Oct. 25, the council and 20-plus business and not-for-profit collaborators will sponsor the seventh annual Greening the Statehouse, an event described by Executive Director Jesse Kharbanda as an effort to "demystify the legislative process, inform people of environmental challenges and solutions, and inspire them to act."
The keynote speaker this year will be Josh Fox, the Emmy-award winning director of "Gasland." The 2014 gathering aims to highlight the importance of safeguarding Indiana's regulatory authority against renewed legislative efforts to neuter the state's ability to solve environmental problems.
The environmental issues the council and its partners are addressing are emblematic 21st century problems. As our technologies have grown more sophisticated, and our economies more complex and interdependent, it has become more and more difficult for the average citizen to separate hype and self-interest from efforts to safeguard the common good.
Is fracking dangerous? Under what conditions? What measures should Hoosiers take to forestall environmental disasters like those recently experienced in North Carolina (where a huge coal ash lagoon leak polluted the Dan River); West Virginia (where a chemical spill left 300,000 people without drinking water for weeks); and Toledo, Ohio, (where an algae bloom paralyzed drinking water supplies for 500,000 people for days)?
Who can we trust to tell us the truth?
We are awash these days in anti-regulatory fervor, but most Americans understand that highly technical issues require disinterested regulators to monitor and protect the environment on behalf of the general public, and that we must allow those experts to make decisions based upon the best information available.
When lawmakers do try to tie the hands of those charged with protecting our environment, we need independent voices calling attention to those efforts and explaining whether they are appropriate or ill-conceived. The efforts of the council, its staff and many volunteers, their willingness to work with many businesses and organizations to be our "eyes and ears," is important—and it mirrors other efforts in our burgeoning not-for-profit sector.
It's unfortunate that so few of the young people I teach want to work in the public sector, but that disinclination should not be taken as evidence they don't care about their communities. They are starting not-for-profits and joining coalitions focused on everything from the environment to education reform to movements addressing homelessness.
The Hoosier Environmental Council website conveys that passion: "It's not just about protecting wildlife and fighting pollution; it's about protecting our children, and pushing for clean energy jobs that will help our state compete in the 21st century. HEC exists to give voice to these Hoosiers in the name of public health, economic development, and common sense."
The younger generation is all right.•
__________
Kennedy is a professor of law and public policy at the School of Public and Environmental Affairs at IUPUI. She blogs regularly at www.sheilakennedy.net. She can be reached at skennedy@ibj.com. Send comments on this column to ibjedit@ibj.com.
Please enable JavaScript to view this content.