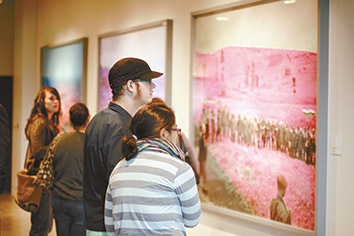 One of the challenges for art galleries is to get people who don't normally visit art galleries to stop in for a look. Sure, the curious might be attracted by the prospects of wine and cheese, socializing and the promise of a new show on First Friday, but that still leaves the majority of the month where, for some, stepping into an art gallery just isn't done.
That's just one of the reasons why I applaud the efforts of the Indianapolis Museum of Contemporary Art and CityWay to carve out gallery space in the well-trafficked building that also houses the Alexander Hotel.
 
Here, thanks to entrances from both the hotel and the South Street plaza, gallery-going doesn't have to be a deliberate thing. The art here—like those pieces in the impressive permanent collection of contemporary art in the Alexander proper—can be serendipitously encountered.
That doesn't mean that this IMOCA outpost shouldn't be a destination in and of itself. With a commitment to innovative programming, IMOCA now has two spaces to showcase its discoveries (the Alexander location will primarily focus on 2D art, freeing up IMOCA's Fountain Square home base for sculpture and other 3D work).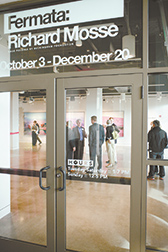 Visitors can access the new IMOCA branch through The Alexander Hotel or from South Street.
It seems like a win all around. CityWay management gets an attractive tenant that signals a commitment to community enhancement. Apartment dwellers get a neighborhood touchstone. The Alexander gets a one-of-a-kind spot to add to its list of event-space options. Out-of-town guests have a new hotel down-time option besides visiting the bar or seeing what's on HBO. Serious art lovers have another place to experience smartly curated, forward-thinking work. And those who don't see themselves as arts patrons—whether the diner with a few minutes before brunch at Yolk, the striver with a few cooldown minutes after a workout at the soon-to-be YMCA across the street, or the "gotta stretch my legs" workers from Lilly—can have their perceptions challenged.
And, through all of this, IMOCA gets increased exposure and a larger playing field. I'm looking forward to seeing more of its artistic discoveries.
Through Dec. 20, you can check out "Fermata," featuring the works of Richard Mosse, who used infrared photography to doctor the landscape of the civil-war-ravaged Democratic Republic of Congo.•
__________
This column appears weekly. Send information on upcoming arts and entertainment events to lharry@ibj.com.
Please enable JavaScript to view this content.