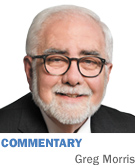 On occasion I devote this space to highlighting a not-for-profit that performs a great service to our community. Today I'd like to draw your attention to such an organization—ICAN, the Indiana Canine Assistance Network.
The mission of ICAN is to train and place assistance dogs with children and adults with disabilities, while providing life and job skills to inmates who train the dogs for service work inside Indiana correctional facilities. As I found out at a recent fundraiser, ICAN is an amazing success story.
Before I go on, I'll admit that I'm predisposed to be tuned into dogs. I love dogs. They are amazing animals that, if allowed to, can open your heart and change lives. And, dogs are especially on my mind at this time. My wife and I are still grieving the recent loss of our fun-loving boy, Murphy, a charismatic West Highland white terrier whose life was cut short at age 12 by Westie lung disease. And our 14 year old girl, Annie, another Westie, is in the twilight of her life winding things down. So, the joy that dogs bring to life is on my mind.
While special to me, my dogs have led run-of-the-mill lives. There's nothing run-of-the-mill about an ICAN service dog. These dogs are very special, offering great service to children and adults who need their assistance. Those who receive service dogs include people managing health conditions such as autism, type I diabetes, cerebral palsy, paralysis, multiple sclerosis, traumatic brain injury and many other disabilities.
ICAN dogs have also been placed with caseworkers in the field of child abuse and domestic violence, teachers working with special needs students and therapists in rehabilitation centers.
The majority of dogs trained and placed are purebred Labradors, Golden Retrievers or a cross between Labradors and Golden Retrievers. On occasion, doodles and mixed-breed dogs from rescues are pressed into service.
The testimonials from clients and their families that have been helped by an ICAN service dog are very powerful. These dogs change lives, and in some cases almost instantly. They are trained to help provide greater independence and a more enriched life for the people they help. And if I may be so bold—a more normal life. This point was driven home as I listened to the mother of a child with a disability describe how their ICAN service dog gave her son the gift of being accepted by other healthy kids his age. All of a sudden, instead of being alone and ignored, he was cool and other kids wanted to be around him. The room was moved to tears as she told his inspiring story.
And very special things also happen to the men and women in Indiana correctional facilities who become handlers and participate in the two-year training program. The inmates are given a purpose and receive unconditional love, both of which help them develop hope for a better future once they leave prison. The close relationships with the dogs open the inmate handlers' hearts, and that makes many positive things possible.
Dr. Sally Irvin founded Indiana Canine Assistance Network in 2001 and is still on staff part time managing program development. Jillian Miller is the executive director and has been with ICAN from the start. The entire ICAN staff, the board of directors, volunteers, the Department of Corrections personnel and handlers—and of course generous friends and donors—all pull together to make the program successful.
The cost for training, health care, food and client support for one service dog over two years' time is $25,000. But the client only pays a one-time fee of $1,500. For that fee they receive follow-up and training for the life of the partnership. So where does the money come from to fund this operation? Individual donations, business partnerships and grants.
Currently, the wait for an assistance dog from ICAN is three to four years. That's too long. More money is needed. For more information on how to obtain an ICAN service dog or how to donate or volunteer, please visit www.icandog.org.•
__________
Morris is publisher of IBJ. His column appears every other week. To comment on this column, send e-mail to gmorris@ibj.com.
Please enable JavaScript to view this content.