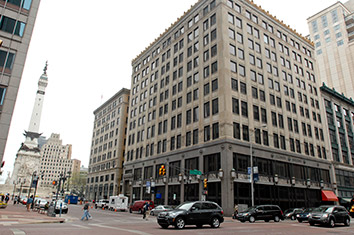 A new brand from the Hilton hotel chain is coming to Indianapolis and will occupy the currently vacant Illinois Building just off of Monument Circle.
A spokesman for McLean, Virginia-based Hilton Worldwide confirmed Friday morning that a Canopy by Hilton is coming to the 10-story building on the southeast corner of Illinois and Market streets. Hilton announced the launch of the Canopy brand on Wednesday.
Hilton is rolling out the brand in 10 cities nationwide, including Indianapolis, in addition to London. The Indianapolis Canopy would be the only one in the Midwest, with the closest in Nashville, Tennessee.
A subsidiary of locally based Keystone Realty Group bought the Illinois Building in November from an affiliate of locally based HDG Mansur. It had owned the building since the 1980s.
IBJ reported then that Keystone was considering offers to convert the downtown landmark into a hotel. Built in 1926, it last housed a food court and a gym, both of which closed in 2003. Three years later, it landed on the Indiana Landmarks "10 Most Endangered List."
 
Keystone will serve as the developer on the project. It's unclear when the hotel will open or how many rooms it might have. Calls to the company were not returned Friday morning. Based on the building's size, however, it likely would house less than 200 rooms.
Hilton hopes to have the first of the 11 Canopy hotels operating by the end of next year.
"The demands and preferences of today's travelers continue to evolve, and Canopy by Hilton creates something new for consumers in the lifestyle space," said Jim Holthouser, Hlton's vice president of global brands, in a prepared statement. "Canopy by Hilton will deliver more choice and control for guests than ever before, from a mobile straight-to-room arrival to surprising extras throughout the day."
Downtown Indianapolis suddenly has become an attractive market for smaller hotels, and for the Hilton chain in particular.
A 102-room hotel is in the works as part of the redevelopment of the Consolidated Building at 115 N. Pennsylvania St. The hotel, a Home2 Suites by Hilton, is set to be built in what's known as the annex of the building, which is at the rear of the vacant, 15-story structure.
In August, IBJ reported that a Minnesota company wants to build two hotels totaling 286 rooms in a 15-story building on a surface parking lot across from Bankers Life Fieldhouse.
The two brands, Aloft and Element, are part of the Stamford, Connecticut-based Starwood Hotels & Resorts Worldwide Inc. chain.
Also, the former Canterbury Hotel is undergoing a conversion to a Le Meridien.
 
Please enable JavaScript to view this content.