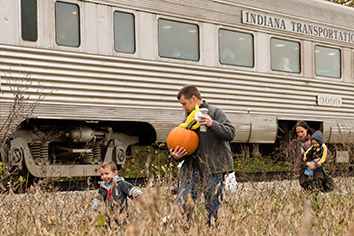 It's a sure sign that fall has arrived in eastern Hamilton County: Train whistles blare and steel wheels sing every weekend as families ride the rails that helped transform America.
But their journey is as much about the trip as the destination.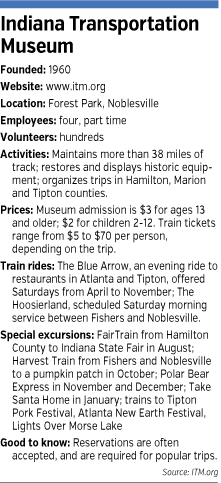 Founded in 1960, the Indiana Transportation Museum has been working for decades to preserve the Nickel Plate Railroad's legacy by offering guests what it calls "moving experiences"—literally.
"From an educational perspective, if you want to understand what the railroad was and how it figured into our daily lives, the best way is to experience it," said John Johnson, an industry veteran and ex-ITM board chairman now serving as a consultant to the museum.
Tens of thousands of visitors do, boarding 1937 passenger coaches pulled by well-used diesel locomotives, all lovingly restored and maintained—and operated—by dedicated volunteers.
Those who opt to depart from Hobbs Station in Noblesville's Forest Park also get to explore assorted railroad equipment on display, including a U.S. Postal Service mail car and the tight living quarters of a freight-train crew.
(The building itself, an old freight depot, was moved from the town of Hobbs to the park in the mid-1970s. It now houses a ticket window and small gift shop.)
ITM's trains travel on the Nickel Plate line between Tipton and the Indiana State Fairgrounds near 38th Street in Indianapolis.
Hot tickets
Although perhaps best known for the FairTrain, the museum has about 650 trips scheduled for this year, said Michelle Yerkeson, an 11-year board member who spends most weekdays volunteering in the museum's business office.
The most popular is the upcoming Polar Bear Express, where children of all ages visit with Santa Claus, listen to volunteers read stories over hot cocoa and cookies, and leave with a gift. The excursions, which start in late November, are usually a sellout despite running six 200-passenger trains each day.
This month, the hot ticket was the newly renamed Harvest Train, which delivers riders to a pumpkin patch near Cicero where FFA students and their parents sell the orange orbs and snacks as a fundraiser.
Ticket sales fund most of the museum's $500,000 annual budget, but leaders are looking for ways to boost revenue along with the organization's profile.
"I think we all wish they had the resources to get to that next level," said Brenda Myers, executive director of Hamilton County Tourism Inc., which counts ITM among its "top performers" for visitor activity. "It's definitely an enhancement to this county."
Adding more departures to the existing schedule is a relatively low-cost option, Yerkeson said, but organizers also are interested in expanding the lineup to include programming in February, March and early April.
"Late winter and early spring are difficult because of the weather," she said, but trains can be equipped with snow plows if necessary.
Among the possibilities: a hockey train that Yerkeson said could be developed in partnership with the Indy Fuel, the pro team playing at the fairgrounds' newly renovated coliseum.
ITM has been doing more in recent years to foster such community collaborations, working with Noblesville Main Street to offer caboose rides during First Friday celebrations, for example.
It also has partnered with Hamilton County Tourism and its Nickel Plate Arts offshoot, which supports and promotes cultural experiences along the rail line from Tipton to Fishers.
"We're trying to find ways to integrate the museum operations into the community as a whole," Johnson said. "There is substantial, real economic value behind what the organization can do for the community, if the community supports it."
Spreading the word
ITM research indicates the train brought an estimated 28,000 people to Fishers last year, he said, and most riders reported making purchases there before or after their trip.
But awareness comes first. Johnson said he was surprised that a market survey conducted last year showed many residents had no idea the museum was a self-supporting charitable organization.
"They assumed, since airports and highways are owned and maintained by the government, that the railroad was, too," he said.
Technically, the Nickel Plate is owned by a public agency: The Hoosier Heritage Port Authority (a collaboration among Fishers, Noblesville and Hamilton County) acquired the 37-mile corridor in the mid-1990s to preserve it for a future transit system.
ITM agreed to maintain the tracks as the port authority's contracted operator, but it receives no public funding other than an occasional, project-specific grant, Yerkeson said.
The museum's paid staff consists of just four part-timers, so volunteers do the bulk of the track and signal maintenance. The engineers, brakeman, conductors and other on-board staff also are unpaid, even though they must complete the same training regimen—and random drug screening—as professional Class 1 railroad employees.
Yerkeson said the organization has about 150 very active volunteers and another 300 or so members who give time or financial support as they're able.
"As the organization grows, the strain on key volunteers grows immensely," Johnson said. "We need more people to run more trains."
Leaders want to transform the museum into a year-round operation with a paid executive director and a board composed of community leaders, he and Yerkeson said. But they still have a lot of ground to cover.
"It's a path," Yerkeson said of the long-range plan developed about a decade ago.
"There's a huge gap between what ITM aspires to be and what it is today," agreed Johnson. "Ultimately, it all comes down to money."•
Please enable JavaScript to view this content.