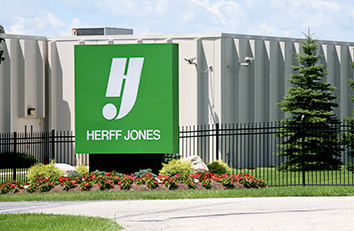 Herff Jones might be on the verge of a sale for as much as $1 billion.
The 94-year-old maker of class rings and yearbooks, quietly renamed Varsity Brands Inc. in June, has hired the investment banking firm Jefferies to explore a sale, unidentified sources told Reuters.

Jeff Webb's influence grew quickly after Herff bought his company in 2011.
A flurry of closed-door meetings, some on Sunday mornings, have occurred with "multiple" investment groups at the company's West 62nd Street offices in recent weeks, a company official who asked not to be identified told IBJ.
The official said Varsity leadership has been uncharacteristically silent about the Reuters story, which came out in August, and has refused to confirm or deny it. Executives declined to comment to IBJ.
A sale would be an epic change for the tradition-bound company, which has annual revenue of $737 million and ranks among the 20-largest employee-owned businesses in the nation.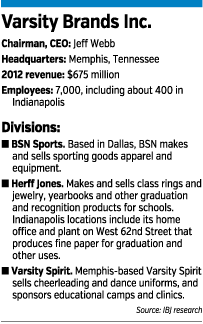 Through an employee stock ownership plan launched in 1995, about 4,500 of Varsity's 7,000 workers own company shares. The stock has been released to them gradually over the years, as Herff Jones paid down a loan used to finance the employees' purchase.
It's not clear what firms are in the running to buy Varsity. A sale to a private equity firm might be more likely than a sale to a competitor, since the latter option could raise antitrust concerns.
Varsity operates in niches with only a handful of players. When Herff tried to buy peer American Achievement Corp. of Austin, Texas, for an estimated $700 million in 2008, antitrust concerns scotched the deal.
U.S. Department of Labor filings show Herff had an appraised value of $805 million in 2012, the latest year available. A buyer who paid a 25-percent premium to that value would need to ante up just over $1 billion.
Acquisitions of some ESOP firms have showered riches on workers.
"There is nothing like it in our economy," Steve Smith, a partner at law firm Krieg DeVault LLP who specializes in ESOPs, said of the potential for ESOPs to generate rank-and-file-worker wealth.
Smith said he could not discuss the Varsity ESOP because Krieg DeVault represents the institutional trustee that oversees it, GreatBanc Trust Co.

He also represented the ESOP that owned locally based health insurer Golden Rule Financial Corp. before it was sold to Minnesota-based UnitedHealth Group in 2003. Golden Rule's 1,000 workers received an average of $100,000 apiece from that deal.
Quiet presence
Herff Jones has operated quietly for decades. Then-CEO Joe Slaughter told IBJ in 2008 that the culture was so conservative that employees joked about wearing both belts and suspenders and driving one mile per hour below the speed limit.
The $737 million in revenue Herff generated in 2013 ranked it 18th on IBJ's list of the largest private Indiana companies.
In recent years, with the company's class ring and yearbook businesses losing steam, much of the growth has come through acquisition—particularly the 2011 purchase of Varsity Brands Inc., a Memphis, Tennessee-based specialist in cheerleading clinics and equipment. Before the purchase, Varsity had about $250 million in revenue, and Herff had $492 million.
Herff also has tried to bolster results through new business ventures. Last year, it led a $26 million venture capital investment in Atlanta-based PlayOn! Sports, which bills itself as the leading rights-holder, producer and aggregator of high school events distributed via TV, the Internet and mobile devices.
Herff also formed an internal innovation team that is pursuing business opportunities in education IT.
Meanwhile, the company is backing away from declining business lines. This summer, it announced it was shutting down a division making maps, globes, atlases, social studies products and reading materials for classrooms. The closure will eliminate 110 local jobs.
Despite challenging business conditions, Herff in recent years generally has been able to boost the appraised value of its shares. The per-share value climbed from $119.75 in 2010 to $132 in 2012, according to Department of Labor filings. A source said the 2013 value slipped to $130.75.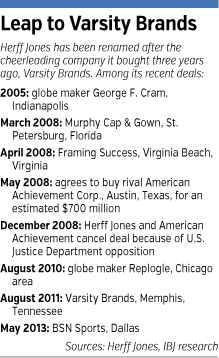 Fresh blood
The renaming of the company this summer reflects the growing influence of Jeff Webb, a Dallas native who founded Varsity Brands in 1974 and turned it into a juggernaut of cheerleading camps and clinics and retailer of uniforms and other equipment.
Webb, CEO of the cheerleading company, rose quickly within Herff Jones—from a board seat at the August 2011 acquisition to CEO, president and chief operating officer in July 2013. His ascension to CEO was a year ahead of when he had been scheduled to take the reins from Slaughter. The company has not publicly explained the accelerated schedule, and Slaughter did not respond to requests for an interview.
This June, the board named Webb chairman, and the company was renamed Varsity Brands.
The managerial center of gravity has shifted to Memphis, where Webb continues to live. The company now lists Memphis as its headquarters
Windfall?
Varsity has about 400 Indianapolis employees, who are split between the former headquarters at 4501 W. 62nd St. and a nearby paper plant.
While Varsity has 7,000 workers overall, thousands aren't eligible for the ESOP because they haven't been with the company long enough to participate.
In a cash sale, shareholders would receive their proceeds after Varsity pays off the company's remaining debt, which the 2012 Labor Department filings listed at $116 million.
Reuters, quoting its unnamed sources, said Varsity generates $100 million a year in earnings before interest, taxes, depreciation and amortization.
If Varsity Brands is like most ESOPs, it would sell for more than its appraised value, said Glenn Scolnik, chairman of Indianapolis-based private equity firm Hammond Kennedy Whitney & Co.
Trustees view the appraisals as starting points in negotiations; thus, it's virtually unheard of for ESOPs to sell for less, he said. Some buyers won't even consider purchasing ESOPs because of the potential to sink time into due diligence and negotiation only to arrive at a price they can't stomach.
"It's a negative for us when we see it's an ESOP company. It's a risk," Scolnik said.
George Cassiere, whose Pace Financial Group appraises ESOPs and other businesses, said appraisals do not take into consideration any strategic advantage a company might provide a buyer.
Another issue, he said, is that most ESOPs have tax advantages that more traditional corporations do not. Trustees also might seek a premium to compensate for the loss of those benefits.
Cassiere said Herff Jones has a reputation for high ethics, and its trustee likely would negotiate a lucrative price in any sale.
"I would assume this matter is being handled with the utmost integrity, the utmost level of care," he said.•
Please enable JavaScript to view this content.