I'll confess that my guest and I had some good laughs on our way to lunch at Milktooth (534 Virginia Ave., 986-5131). The latest dining addition to the betwixt-downtown-and-Fountain Square stretch of the Cultural Trail (aka Fletcher Place) features a menu so precious that mocking is difficult to resist. Purple Barley Porridge? Isn't that an opening act for The Wiggles? Sweet Tea Fried Chicken Biscuit? Are the good folks at Milktooth just putting random food words into a blender?

And what of the menu note: "Modifications are politely declined"? Almost makes one want to tempt the house rule.

The jibes ended quickly, though, once the food arrived. For chef/owner Jonathan Brooks and his wife, Ashley, have fashioned a delightful destination morning spot. (Be careful toward the end of lunch. There have been reports of ingredients running out.)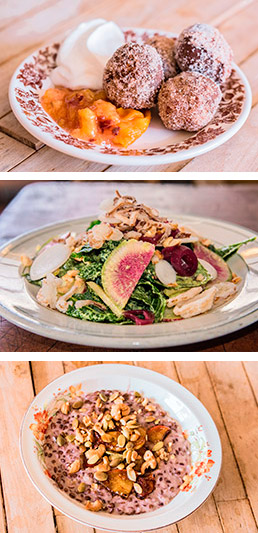 Potato Doughnuts, Curly Kale Salad and Purple Barley Porridge are among the unexpected, satisfying offerings at Milktooth. (IBJ Photos/ Eric Learned)
Make no mistake: This is not Yolk or First Watch or any of their pancakes-by-the-stack brethren. Your wallet might be hit a little harder here, and you won't leave so stuffed that you are likely to bypass your next meal without noticing. Remember when there was one Café Patachou? You might have some flashbacks—not in look or food style, but in the sense of non-formulized comfort and care.

Bathed in light, the converted garage space comes complete with a breakfast counter, antique furniture and fixtures, and industrial ceiling and mismatched plates, giving the sense that we've entered hipster Mayberry. There's even a vegetable garden in the middle of the parking lot out front, the better to send the message of freshness.

Our friendly but not intrusive waitress approved of our plan to share items from across the menu. First stop: Classic—although when the closest thing to French Toast is Amelia's Franchese Toast Plate with house ricotta, clementine confit, egg rillettes and pickled avocado, it's clear that, here, "classic" doesn't translate as "traditional."

However you define classic, consider the aforementioned Sweet Tea Fried Chicken Biscuit ($14) with sausage gravy and fried egg. I made the mistake of taking a first bite of just the chicken. Good enough but seriously upgraded when swirled first in the gravy and egg.
From the Divergent portion of the menu, the Curly Kale, Kohlrabi and Radish Salad ($10) made delicate use of hazelnuts, pickled and crispy shallots, and nam pla (a fish sauce) green goddess dressing. The salad is beautiful, healthy and a great complement to the creamy Purple Barley Porridge ($8). Don't expect to find too many other restaurants serving this delicious mix made with coconut milk, cashews, caramelized apples and pepitas (pumpkin seeds, but they certainly sound more mysterious in Spanish).

Side dishes fall under the menu heading Adjacent. We picked the Latke ($5) with harissa ketchup and aioli. The potato pancake gave familiar support but the lightly drizzled sauces took the flavor profile to a whole new level.

We capped our meal off with Cinnamon Sugar Potato Doughnuts ($7) served with a yogurt mousse and vanilla-peach preserves. These pillows of happiness disappeared quickly.

Perhaps the best thing of all: Never once did we feel the need to request modifications. We'll never know if they truly would have been politely declined.•

—Lou Harry