Financial Center Federal Credit Union is pursuing a state charter in hopes of becoming a bigger player in Indiana's financial services sector, a move that echoes a recent national trend of credit unions opting for state charters over federal ones.

State and federal charters have different rules, and industry observers said several not-for-profit credit unions are recalibrating charter and other strategies as they ramp up competition with for-profit banks.

For Financial Center, the federal charter is too restrictive for its growth plans, executives said.

Ryan
"The strongest credit unions in the state have made this call," Financial Center President and CEO Kevin Ryan said. "Many of our peers who are larger than we are today were smaller than we were a decade ago when they made that decision to go state chartered."

Officials hope the conversion is complete by January.

In the three years ended June 30, nine of the country's roughly 6,500 credit unions converted from state to federal charters, according to Washington, D.C.-based industry tracking firm Callahan & Associates.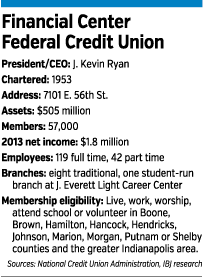 Over that same period, 31 went the other way.

Callahan Chairman Chip Filson said the reasons for picking one or the other vary. But by and large, he said, state charters allow for more "experimentation, flexibility and, frankly, regulatory responsiveness."

A federal charter allows credit unions to serve a limited geographic location. It also permits them to serve employees of specific companies no matter where the employees reside. But federal credit unions can't pick both.

Financial Center chose the geographical option, serving those who live, work, worship and more in the 10-county Indianapolis area. It does a lot of business with local companies in the health-savings-account space, but it can't serve employees of those companies who live outside its charter territory.

The state charter would allow it to expand, Ryan said.



Financial Center's federal charter also prohibits it from providing financial services to government bodies such as school districts, Ryan said. Additionally, it's restricted from merging with smaller credit unions outside its territory.

In the past year, Ryan said, Financial Center had to turn down two merger offers from credit unions with about $50 million in assets each.

"That's 20-percent growth," he said about Financial Center, which has $505 million in assets.

If the conversion is approved by Financial Center members and state authorities, Ryan said, he intends to pursue members across the state, particularly through HSA offerings. John McKenzie, president of the Indiana Credit Union League, said there's room for all of the state's 169 credit unions to grow as they only serve 2.2 million members, roughly a third of the state's population.

Several of Indiana's state-chartered credit unions already are statewide players, including South Bend-based Teachers Credit Union. The top four Indiana-based credit unions by members all have state charters, and they have an average of just over 154,000 members each.

By contrast, no Indiana credit union with a federal charter has more than 80,000 members. Financial Center ranks No. 12 in the state with just under 57,000 members.

Financial Center's proposed switch is subject to a shareholder vote and approval by Indiana's Department of Financial Institutions. If approved, it will remain federally insured. Ryan acknowledged the switch will add taxes his credit union is currently exempt from, including state sales tax and state income tax.

He declined to provide estimates of what the new tax burden might be in advance of the deadline for members to vote on the switch, scheduled for Nov. 12. Financial Center said the increase in taxes will be partially offset by lower oversight fees, which are $95,848 annually at the federal level and $83,504 per year at the state level.

While recent conversions tend to favor state charters, most credit unions are federally chartered. According to the National Association of State Credit Unions, credit unions with state charters account for two of every five nationwide. In Indiana, only 41 credit unions, or 24 percent, are state-chartered.

Officials at Eli Lilly Federal Credit Union, the state's fourth-largest by assets, with $1.1 billion, said the federal charter better suits its goals. Elfcu, which is changing its name to Elements Financial this January, serves employer groups instead of a specific territory, focusing on Indianapolis-based companies and organizations.

Rich Jones, one of Elfcu's vice presidents, said the credit union began in 1930 with a state charter serving solely Eli Lilly and Co. employees. It could serve out-of-state employees under that state charter, but not those who weren't payrolled in Indiana. So it converted, Jones said.

"Our strategy has continued to be that we have a national footprint," Jones said. "And when your strategy is to have a national footprint, it's important to have a federal charter."•