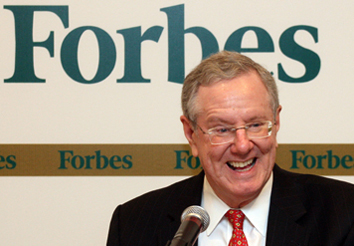 Forbes Magazine is hosting "The Innovation Summit" in Indianapolis on Nov. 13, one in a series of conferences highlighting the reinvention of various Midwest businesses. Editor-in-Chief Steve Forbes, who unsuccessfully ran for president in 1996 and 2000, spoke with IBJ recently about the conference, Gov. Mike Pence and the Republican Party. The following is an edited version of the interview.
IBJ: One could argue that innovation is taking place all across the country, so why is Forbes spotlighting Indiana specifically?
FORBES: I think there's a perception, especially in technology, that innovation is coastal. And what we've been emphasizing this year is "No," that there are a lot of fantastic stories going on around the country, particularly in the much-overlooked Midwest. So there's nothing like having a conference on the spot to highlight that and give a better perspective of what our prospects are for future economic growth.
IBJ: Why Indianapolis?
FORBES: Why not? We had a conference earlier in the year in Chicago, and Indianapolis seemed to be a natural. Indiana, as you know, has had great economic performance relative to the rest of the country in recent years, including raising its debt rating even though it was hard-hit by the turbulence of the financial crisis. So it just underscores that Indiana, as a story, doesn't get much written about it, but it is a success story in a very difficult era.
IBJ: Your magazine recently reported that the Midwest accounts for 19 percent of U.S. gross domestic product and 19 percent of patents, but only draws 5 percent of the country's venture capital. Why?
FORBES: I think one of the things this conference is about is to get venture capital to be more focused on these opportunities. On the West Coast and Silicon Valley, they just assume that you will come to them. Well, you can go to the Valley, but if you go out into the country there are a lot of opportunities out there. And that's why we think having this conference will wake up opportunities for venture capitalists.
IBJ: Do you have any special ties to Indiana?
FORBES: I have people ties. I'm a longtime fan of your former governor. I wish he had made a [presidential] run. He's now head of Purdue, but I wish Mitch Daniels had made a race of three years ago for 2012, but he decided not to.
IBJ: Speaking of Indiana governors and presidential runs, what are your thoughts about Gov. Mike Pence?
FORBES: I think he's one of those big figures in the Republican Party we'll be hearing more about after the [mid-term] elections as people look forward to "Where do we go from here?" I have no idea what his thoughts are on 2016. But given his service in the House, what he's done and what his predecessor Mitch Daniels did, I think he'll be a major figure in the Republican Party.
I think the party is likely to turn to governors because they cannot just rely on speeches; they have to do real things on a day-to-day basis. And Pence has got a very good record. So I'd be interested to see what happens [after the mid-term election].
IBJ: Do you think he'd make a solid presidential candidate, or is he more of a vice presidential pick?
Forbes: I think he has to be considered a possibility. The base of the party likes him from his service days in the House, when he did not play the Washington game. And he has executive experience. So, again, I have no idea what his intentions are, but he certainly deserves a look.
IBJ: You were twice a former presidential candidate. If Pence does decide to run, what advice would you give him?
FORBES: He would have to start early and build up a ground game in states like Iowa and New Hampshire. It's a lot of work, a lot of resources to collect. I know a lot of Republicans are looking at running. But it requires not just a look, but getting a real campaign together, getting volunteers nationwide together–particularly in the early states. So it's quite a job. Obviously he has not done it before. But I don't think he underestimates, if he did do it, what would be required.
Some people wished he had run in 2012, but he ran for governor. So going into 2016, I think he's got as good a resume as anybody.
The interview was conducted during Tuesday's election. Given the overwhelmingly positive result for Republicans, Forbes' comments about the party still apply.
IBJ: There's an election today, and numerous polls suggest Republicans will wrest control of Congress. If that happens, what do you think should come next? With so many voices in the GOP tent, what do you think should be the top three agenda items starting Day One?
FORBES: I think they should start, even though it's not the biggest thing in the world, by passing [legislation] allowing for the Keystone XL Pipeline. They need to get that in the works and put it on the president's desk to see if he approves it.
Then they should pass two things to show their favor for high-tech. The House passed a bill banning what they call patent trolling. These firms come together and buy a lot of patents, then use them to shake down larger companies. The House passed it but [Senate Majority Leader] Harry Reid stalled it in the Senate. I think this will show that they're forward-looking on technology, removing barriers.
Then they should look at Obamacare. The president has given a lot of exemptions, so what they should do is do away with the company mandate–so companies don't have to fear that if they get more than 50 people they're going to be crushed with new costs. I think they should do away with the individual mandate and do away with the medical device tax.
For Obamacare, you could pass an outright repeal, but then there are a few pieces that people do like. I think what you should do is leave the façade of the building and then demolish the inside of it.
 
Please enable JavaScript to view this content.