Two Democrats, including a current state representative, are expressing interest in running for an open state Senate seat encompassing downtown Indianapolis.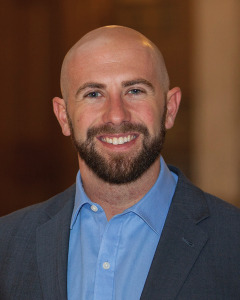 Democrat Rep. Justin Moed told IBJ he is gearing up to run for the newly drawn Senate District 46. He is planning to formally announce his campaign soon.
Ashley Eason, an Indianapolis resident and former Democratic Senate candidate, announced her campaign for District 46 last week.  Eason lost to Republican Sen. Jack Sandlin of Indianapolis in 2020.
District 46 emerged from the GOP-redrawn Indiana Senate district map that cleared the Legislature last week and was signed into law Monday by Gov. Eric Holcomb. It placed a new Senate district in the heart of downtown Indianapolis and includes part of Fountain Square and Irvington.
"This district is made up of some of the best areas of the city," Moed said. "They need good representation at the statehouse to advocate and continue to be a part of improving the quality of life in those neighborhoods."
Once he saw the new district in the Senate maps, he said "it seemed appealing" to start seeking advice from community and political leaders on if running was a viable option for him. Moed was elected to the Indiana House in 2012, representing House District 87 in Perry, Wayne and Center townships.
Eason said she is ready for a robust primary. Originally from Texas, she moved to Indianapolis five years ago after working in Washington, D.C. She now works as vice president of programs and services at the International Center in Indianapolis, a not-for-profit that helps promote Indiana's global engagement.
Like with any open Statehouse seat, there is a lot of interest. Marion County Democratic Party Chair Kate Sweeney Bell said at least four more Democrats, aside from Moed and Eason, are considering a run for the seat. She expects a competitive primary this spring, she said.
District 46 sits in a cluster with two Democrat stronghold districts, 33 and 34, held by Sens. Greg Taylor and Jean Breaux, respectively. The new district also is projected to lean strongly Democrat.
"There's lots of interest, lots of excitement for that district, which is great," said Indiana Democratic Party Chair Mike Schmuhl. "It's great for our party, and great for the community."
Marion County GOP chair Joe Elsener said he has not heard of any Republican candidates planning a run for the seat yet.
Moed said the Senate district could use someone like him who already has experience at the Statehouse and a "proven record of getting things done." He pointed to his efforts in to provide first-ever state funding for pre-K, teacher pay raises and advocating for mass transit in Indianapolis.
"People who know me, over the 10 years I've served in the House, know that what comes first is being an advocate on behalf of the issues that people in my district asked me to be an advocate for," Moed said.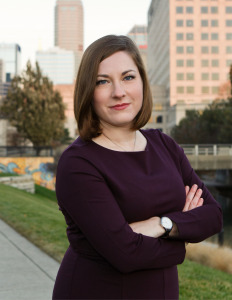 In 2015, Moed was implicated in a sexting incident with Sydney Leathers, the Evansville woman involved in the 2013 Anthony Weiner sexting scandal. He apologized for the incident, weathered the storm and won reelection bids for three more terms.
Eason said she is the best candidate for the Senate seat because she is "not afraid to go head-to-head with the Republican supermajority." Her campaign platforms include supporting mass transit funding, abortion rights, teacher pay raises and gun control.
"My neighbors here in Indiana need a representative who boldly and effectively fights on their behalf," Eason said. "I really, truly understand the job."
Although Democrats are expected to gain this seat in the Senate in 2022, Republicans are still expected to maintain control of the chamber and now enjoy a 39-11 supermajority.
Democrat Sen. Tim Lanane, of Anderson, could face a challenge from Republican Sen. Mike Gaskill of Pendleton in the redrawn Senate District 25, which is expected to lean more Republican and could cause Democrats to lose a seat.
Please enable JavaScript to view this content.