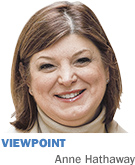 A recent study concluded that Indiana is the eighth-worst state for women. Using their metrics for what makes a state good for my gender, the study was accurate. We have plenty of work to do to make Indiana better for women, but I believe there are more metrics for success and those were summarily ignored by this study.

The way I see it, in Indiana, there is no "war on women"—the Washington-driven message that injects itself into campaigns around the country and fills the airwaves of the 24-hour cable news carnival.

As it turns out, Indiana is the state for women. We have a strong history of women taking on prominent leadership positions at the federal, state and local levels of government, and in business, too. From Sue Ann Gilroy to Marge O'Laughlin, from Connie Nass to Julia Carson, from Madame Walker to Angie Hicks, women have long been leading the charge and making decisions that benefit women and men in every corner of Indiana.

And in 2012, the floodgates really opened. We elected Sue Ellspermann, Susan Brooks, Jackie Walorski and Glenda Ritz. Just this past week, we added to that list when Connie Lawson, Suzanne Crouch and Kelly Mitchell were all officially elected by voters statewide.

As a result, of the seven statewide positions, all but two (governor and attorney general) are held by women, our congressional delegation boasts two women, and there are a number of women mayors and women members of the General Assembly. And let's not forget the chief justice of the Indiana Supreme Court is a woman.

Beyond politics and government, women have made strides at the top of a number of Indiana-based companies and organizations such as former WellPoint CEO Angela Braly and former Indiana Sports Corp. President Allison Melangton.

Here, there is no separate table for women. There is one large table where all voices are welcome and all ideas are heard. That's because, in this state, we don't capitulate to the D.C. drama but instead are focused on moving our state forward and making an impact each and every day, whether it be in the Statehouse, in Congress or in a corporate boardroom.

That is what being a Hoosier woman is all about, and I'm proud of that fact. I'm proud that in our state there are dynamic women—both inside and outside the spotlight, and on both sides of the partisan divide—who make it their business to get involved to make our state a better place to live.

I'm equally proud to be associated with an organization such as the Richard G. Lugar Excellence in Public Service Series, which made an investment in training women leaders 25 years ago and has to date prepared 441 of our best and brightest to take on leadership roles in government, politics and business. Among them are Lt. Gov. Ellspermann and newly elected Treasurer Kelly Mitchell.

These women, and many more like them, exemplify what the American Enterprise Institute's Arthur Brooks calls "a bias for action." It's not about playing politics for women. It's about running for office, getting elected to office, and then getting the job done. That's exactly what we should expect of them and it's exactly what they give.

Because of these women leaders, Indiana is on the right path toward bringing change and proving that we are the best state for women—no matter what some study says.•

__________

Hathaway is the founder and president of Indianapolis-based Hathaway Strategies, a public affairs consulting firm. She previously served as chief of staff at the Republican National Committee and as program director of the 2012 Republican National Convention in Tampa, Florida. Send comments on this column to ibjedit@ibj.com.