A liquor store chain's decision to offer alcohol-delivery via smartphone app has sparked the latest skirmish in a years-long squabble over alcohol regulation in Indiana.

Big Red Liquors last month unveiled its partnership with Boston-based startup Drizly that makes booze available by tapping a touch screen. The move has inspired complaints from other alcohol retailers, including grocery and convenience store owners, that the service could make it easier for minors to obtain alcohol.

The Indianapolis-based retailer is attempting to alleviate any fears by putting several safeguards in place. Identification cards are verified through the app and by delivery drivers. Drivers will not deliver products to minors or an environment where use by minors is likely.

They also won't deliver to college campuses, which makes enforcement somewhat easier since the service for now is available only in the Indianapolis area and not in, say, Bloomington, where Big Red was founded.

Liquor stores already are permitted by state law to deliver alcohol, as long as the delivery is made by an employee who is licensed and trained by the state.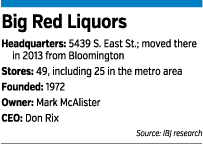 Under the Drizly partnership, the delivery driver electronically scans the consumer's driver's license to ensure it's valid. The scanning software even recognizes flaws in out-of-state identification cards that delivery drivers might be less familiar with, said Matt Bell, a spokesman for Big Red.

"There is always a human element in alcohol sales," he said. "But we think that this system mitigates risk more than any other system in the nation."

Grocery and convenience store officials aren't convinced Big Red can police itself under the new service.

"We are very concerned that third-party delivery of alcohol to private homes and even university housing units on behalf of a consistently aggressive package liquor store operator will create too many opportunities for inappropriate or even illegal activity," said John Elliott, spokesman for Cincinnati-based Kroger Co.'s central division, in an email.

Stoking an old squabble

Package stores and grocery retailers have been butting heads for years, mainly over cold beer and Sunday alcohol sales. In Indiana, grocery and convenience stores are allowed to sell only room-temperature beer, while liquor stores can sell it cold.

The convenience and grocery stores challenged the law in federal court last year. In July, Judge Richard L. Young dismissed their case. It's now pending on appeal.

Grant Monahan, who represents the convenience, drug and grocery stores as president of the Indiana Retail Council, finds it "ironic" that Big Red is using the app to provide consumers more convenience while limiting their options to buy cold beer and alcohol on Sundays.

"With this customer convenience comes genuine responsibility to sell alcohol to a legal age, and I think it's a real challenge to deliver on that," Monahan said. "You can only imagine what the guys in a frat house at Butler are thinking."

But Big Red's policy that prohibits delivery to college campuses extends to fraternities and sororities as well, spokesman Bell said.

Big Red will not deliver kegs; otherwise, there's no limit on the amount of alcohol that can be transported.

"I still obviously have concerns about how it's going to work once people do start using it and how foolproof it will be, but nothing is perfect, I guess," said Lisa Hutcheson, director of the Indiana Coalition to Reduce Underage Drinking.

Commitment to carding

Representatives of both Big Red and Drizly met with the Indiana Alcohol and Tobacco Commission, the entity that enforces the state's alcohol laws, before unveiling the service in Indianapolis.

After hearing details, commission members are satisfied that Big Red will follow the law, said Cpl. Brandon Thomas, public information officer for the Indiana State Excise Police.

"I think why people are so interested in this is that the transaction is taking place online," he said. "Big Red does a good job of checking IDs. They always give us a heads-up when they see a new trend with false IDs."

To that end, Big Red this year launched a program called 40 under 40, in which the retailer will pay a customer under 40 years old $40 if a worker fails to ask for his or her ID. State law mandates that all Hoosiers under that age must be carded when purchasing alcohol.

Overall, package liquor stores are more prone to serve minors than groceries or drugstores, according to statistics from the Indiana State Excise Police.

This year, during the agency's annual sweep in which it uses minors to attempt to buy alcohol, liquor stores logged an 18.9-percent failure rate, compared with a 7.7-percent failure rate for groceries and a 5-percent rate for drugstores, the statistics show.

The Drizly app is free, but there's a $5 delivery fee. Ordering while under the influence may cost even more. If a driver deems the purchaser to be intoxicated, that person will be charged a $20 restocking fee.

By partnering with Drizly, Big Red hopes to boost delivery sales, which now account for less than 1 percent of the company's overall sales, officials said.

Mothers Against Drunk Drivers, whose mission is to stop drunk driving, thinks the app actually might help curb the dangerous practice.

"We hope adults over the age of 21 will use this app to make a decision to not drink and drive and have alcohol delivered safely to them versus getting into their car and driving impaired," said Lael Hill, director of MADD's Indiana chapter.

In March 2013, Big Red increased its footprint in the Indianapolis area by acquiring the assets of United Package Liquors Inc. and its 24 stores. That July, it bought a 33,000-square-foot building on the city's south side and moved its headquarters from Bloomington to Indianapolis last fall.•