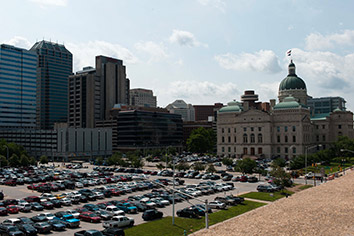 The Indiana Department of Administration is seeking a vendor to manage its downtown garages and lots, a move that could make current employees the last state workers to enjoy free parking.
The IDOA hopes to turn over its facilities by Feb. 1, according to a request for proposals that was issued in October. The deadline for submissions is Wednesday, and the state expects to select one or more vendors in December.
State employees currently park free in state-owned garages on Washington Street, Senate Avenue and the parking lot northwest of Ohio Street and Capitol Avenue. The IDOA doesn't intend to change that, but the RFP suggests that an outside vendor could charge fees to workers hired after the contract takes effect.
"At the Washington, Senate and surface lots under IDOA authority, it is the State's intent to continue free parking for State employees and authorized contractors at the time of contract execution," the RFP states.
Despite the loophole in the RFP, IDOA spokeswoman Shelley Triol said, "'grandfathering' won't be an issue because we plan on maintaining free parking for employees."
"Free parking will be preserved for state employees and will most likely be preserved for authorized contractors as well," she said in an email to IBJ.
The state's main goal in seeking outside management, according to the RFP, is to find spaces for about 700 employees who currently park at leased facilities downtown. The Indiana State Department of Health and Department of Child Services are both in downtown offices outside the government center.
The private-sector manager would operate 6,100 spaces in the Indiana Government Center garages and lot, plus an underground garage and a surface parking lot at White River State Park, which, when combined, offer another 862 spaces, according to the RFP.
The state is seeking proposals that provide "cost-effective solutions for absorbing or relocating externally leased spaces," according to the RFP.
Weekend parking could also be a revenue opportunity for the outside vendor. The Washington Street garage is used for Indianapolis Colts parking and some NCAA events, but only about 100 state employees need regular weekend access, according to the RFP.
Use of the White River State Park facilities is more varied because they serve the museums and Indianapolis Indians. The garage is used by 658 monthly parkers, and 283 of those are getting complimentary access, according to the RFP.
The contract would run for three years with the possibility of two one-year extensions.
Interest so far is high. Six firms sent representatives to a pre-bid conference in October, according to the IDOA's sign-in sheet. The following firms were represented:
Denison Parking, Hederick Partnerships and Newpoint Parking, all from Indianapolis; and LAZ Parking of Hartford, Connecticut; Republic Parking of Tennessee;  and ABM Parking of New York City.
Please enable JavaScript to view this content.