One of the city's most prolific apartment developers has bought a building in the burgeoning Fletcher Place neighborhood and is moving its office there.

Milhaus Development LLC plans to spend $2.5 million to redevelop the former Shirley Engraving property at 460 Virginia Ave. The company expects to occupy the space by May.

Besides its headquarters, the project will include two apartment units on the second level of the historic, two-story brick building, which dates to 1876, and 2,400 square feet of retail space in the one-story addition at the north end of the property.

"It's an opportunity to rehab and repurpose a building," Milhaus President Jeremy Stephenson said. "And, obviously, its location along Virginia Avenue--we felt that was really important, too."

The 65-employee firm now is in rented space at 530 E. Ohio St. on the first floor of the Maxwell, a five-story, contemporary art-deco building with 105 housing units.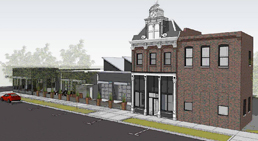 The $2.5 million renovation project will include two apartment units in the two-story, 138-year-old brick building. (Image courtesy Blackline Studio)
Partners of the firm and locally based Gene B. Glick Co. own the building, which was developed by locally based Kosene & Kosene. Milhaus will nearly triple its footprint, to 8,900 square feet, by moving to Virginia Avenue.

Milhaus considered a few other locations, in the Cole Noble and Lockerbie Square neighborhoods, before selecting Fletcher Place, Stephenson said.

"Its proximity to downtown, without being in the heart of downtown, works pretty well for our employees and visitors, because it's pretty easy to get in and out, and you're also in a neighborhood with amenities," Stephenson said.

Milhaus bought the 1.25-acre property from Deylen Realty, which across the street is constructing Slate, its $10 million, 68-unit, mixed-use apartment project at 501 Virginia Ave. It also will include 9,900 square feet of street-level retail space.

Deylen bought the building it sold to Milhaus about a year ago, after Englewood Development's plans for the property fell through. The locally based developer and manager of affordable housing put it under contract several years ago with plans to build up to 50 units and 5,000 square feet of retail space, with two levels of underground parking.

But neighborhood opposition to the project and its failure to secure a zoning change from the city led Englewood to abandon the project.

"We're really happy to have them in the neighborhood," Deylen Realty principal Craig Von Deylen said of Milhaus. "We like having the full-time employees, because it helps the restaurants and all the other retail that's coming into the neighborhood."

The latest addition to Fletcher Place is the eclectic Milktooth restaurant, which opened in early October about a block south of Milhaus' building.

Milhaus is no stranger to the neighborhood. Its $5.8 million, 64-unit Mozzo apartment development with 2,300 square feet of commercial space, opened at 531 Virginia Ave. in early 2013.

Milhaus plans to open up the front of the one-story building for a retail tenant by knocking out parts of the concrete block wall and installing glass to let light into the space. Milhaus also will install large roll-up doors so the interior and exterior space can blend together, in addition to constructing a new entrance and patio along Virginia Avenue.

Milhaus has not started to market the space yet but will soon, Stephenson said.

Blackline Studio, which is co-owned by Von Deylen, is the architect on the project.

Once Milhaus vacates its space at The Maxwell, existing tenant Civil & Environmental Consultants Inc. will expand into it.

Founded in 2009, Milhaus has grown in the past year from 12 to 65 employees, some of which are property managers and are not housed in the office.

A few of Milhaus' other apartment projects, besides the Mozzo, include the downtown Artistry and Circa complexes.

The firm also plans to build 84 condo units on a one-acre property between 10th and 11th streets bordered by Broadway Street and Park Avenue. It needs to demolish a church and vacant warehouse before work can start on the site, which is in the Chatham Arch neighborhood.