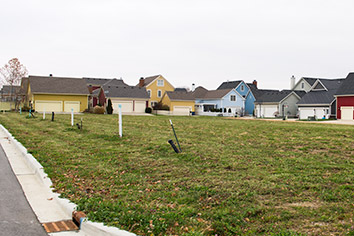 Last year's residential building boom in the Village of West Clay has proven to be short-lived, as an ongoing dispute between the developer and its lenders halted land sales in the upscale Carmel neighborhood.
Through the first 10 months of 2014, builders pulled just 34 permits for new homes in the 680-acre community—down 60 percent from the same period last year. Permit filings in the nine-county Indianapolis region are up 1 percent year-to-date, according to the latest data from the Builders Association of Greater Indianapolis.
And the pace of construction in West Clay likely won't pick up any time soon: A Hamilton County judge last month appointed an independent receiver to manage undeveloped real estate there until an 8-month-old court case can be resolved.
Brenwick Development Co. suspended operations and filed a lawsuit in March after months of wrangling over financing with BMO Harris Bank and Wells Fargo Bank. The Carmel developer and two affiliates allege the banks violated the terms of their loan agreements by refusing to provide cash needed to pay for ongoing operations and infrastructure.
Wells Fargo, which acquired the debt last year from BMO Harris, insists in court filings that it has no such obligation and in turn is seeking to foreclose on the undeveloped land Brenwick controls in the Village of West Clay and its Lochaven neighborhood in Noblesville.
The bank says Brenwick defaulted on more than $20 million in loans for the two communities, which came due at the end of 2013. Brenwick executives had expected the bank to extend the loans' maturity date, as it had in the past.
The borrowers "are insolvent or are in imminent danger of insolvency as evidenced by their continued failure to repay the amounts due," Hamilton Superior Judge Daniel Pfleging wrote in an Oct. 17 order appointing Carmel-based Anker Receivership Group to maintain the property, assess its value, and recommend an equitable resolution.
"We don't favor one party or the other," said Matthew Kress, who is managing the task for Anker Receivership, a division of the Carmel-based Anker Consulting Group. "Our loyalty is with the court."
Representatives of both banks and the developer declined to comment on the dispute, citing the ongoing litigation.
Ironically enough, observers say the funding flap could be good for the development in the long run, temporarily restricting the supply of desirable residential lots and allowing existing commercial buildings to fill up before more construction begins.

Pittman
"Everything has been tied up out here, so it's very difficult to buy a lot if you want one," said veteran developer Steve Pittman, whose Pittman Partners moved its offices to West Clay this year from the North Meridian Street corridor.
A derailed deal
Count Ryland Homes' plans for 36 townhomes among the short-term casualties.
The homebuilder paid about $547,000 for the land needed to start its two-phase construction project last year, court records show, and had the rest under contract for nearly $704,000. Brenwick asked its lender for a total of about $345,000 to provide infrastructure, sparking the ongoing financial battle.
With no resolution on the horizon, Ryland moved on.
"We no longer have a contract to purchase the ground," Indiana Division chief Craig Jensen wrote in an email to IBJ, and the company sold the adjacent land it owned.
Designed to mimic small-town life in the early 20th century, the Village of West Clay was the first project of its kind in Indiana when construction began more than a decade ago. Prices range from $150,000 townhomes to $3 million estate homes.
By last July, when homebuilding was humming along, only about 100 of the 1,700 residential parcels—mostly pricey estate lots—remained unsold, Brenwick President George Sweet told IBJ at the time.
Sweet and partner Tom Huston founded Brenwick in 1976. Together, they've developed more than 6,000 home sites in tony neighborhoods throughout Indianapolis and the northern suburbs. Brenwick's Countrywood community in Zionsville was considered the town's first subdivision.
Now, Brenwick's Village of West Clay sales center has closed, the street-level storefront filled by an outpost of the nearby Indiana Montessori Academy. Brenwick Development leases offices upstairs.
Residential interest in West Clay nevertheless remains strong, Pittman said. His development firm recently marketed three single-family lots that sold for $200,000 to $250,000 each—less than their boom-time peaks, perhaps, but hardly bargain-basement prices.
"I feel like people want to invest and buy lots and build homes out here," Pittman said. "There's definitely residential demand."
And since the neighborhood is more than 90-percent finished, it should be stable enough to endure a delay in development, he said.
Indeed, WestClay Owners Association members "are not overly concerned" about the construction slowdown or financing squabble, Executive Director Kevin Krulik said. "Whatever the result of the litigation, we don't feel it will have an effect on the integrity of the neighborhood."
The receiver is responsible for maintaining the properties—mowing empty lots, for example—while it conducts an accounting of the real estate assets and gathers market data to come up with a plan to maximize the value of each property, Anker's Kress said.
A silver lining
In the case of commercial lots, pausing development may not be a bad thing, said Colliers International broker Tom Osborne, who has the former Harvest Fresh Market on Horseferry Road listed for sale.
The Village of West Clay's two commercial nodes remain largely undeveloped, and fellow property owner CFS Inc.'s legal woes led to several high-profile vacancies—which are being filled now after languishing for more than 18 months.
As IBJ has reported, CFS is facing a state securities-fraud lawsuit. Its owners are accused of selling $10.4 million in ownership interests in rental properties to elderly clients and misappropriating their funds.
A receiver appointed in that case is liquidating the company's holdings, and the proceeds will be distributed to investors and creditors.
Meanwhile, the new property owners are landing new tenants: Greek's Pizza opened an outlet in the Sterkx Building on Meeting House Road (sold at sheriff's sale last year), and a third Pizzology Pizza + Pub is slated to replace the long-shuttered Pamfilio's Italian Restaurant on the ground floor of the Brenwick Building, which Pittman and partner Hageman Group acquired in March.
The 24,400-square-foot office-and-retail building, at 12821 E. New Market St. in the heart of the Village Center, was only 40-percent occupied before Pizzology signed a lease this summer.
Three potential buyers have expressed interest so far in the Harvest site, which Osborne said could have been sold more than six months ago if not for the legal complications. (Possible uses include a restaurant, a market/deli and offices, he said.)
Osborne credits the improving economy—led by growing areas like Hamilton County—and limited options for non-residential development in once-far-flung west Carmel.
"The area has filled in residentially since the recession, and the timing is right for good commercial uses to benefit from that," he told IBJ.
A delay in new projects, he added, "allows the market to catch up and become stabilized prior to new projects coming online."•
Please enable JavaScript to view this content.