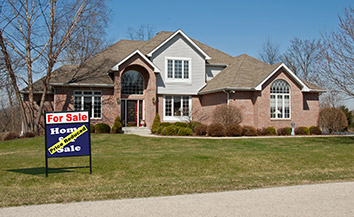 The Indianapolis-area housing market appears to be leveling off after a year of decreasing sales and then a surprise bump in September.
The number of home-sale agreements for the nine-county area in October was nearly identical to the total in October 2013—rising a grand total of two from 2,170 in the same month last year, real estate agency F.C. Tucker Co. reported Friday morning.
The slight rise echoes an increase in September, when pending sales of existing homes eked up 1.1 percent over the same month in 2013. Prior to that, deals had fallen for 12 straight months on a year-over-year basis.
"Although the increase [in October] was modest, we remain encouraged by positive sales and higher home prices—characteristics of our ongoing market stabilization," said Jim Litten, president of F.C. Tucker Co.
The average sale price for homes in the nine-county metro area in October climbed 6.5 percent, to $176,703, from $165,897 in the same month last year. Average sale prices for Marion County homes rose from $128,543 to $137,152, and Hamilton County homes jumped from $252,235 to $267,436.
Deals still would need to improve significantly in the last two months of the year for the market to enjoy a positive year in sales. So far, deals for the first 10 months of the year have hit 24,972 homes, a 4.9-percent decline compared to the same period of 2013.
In Marion County, the metro area's busiest market, pending sales jumped 6.8 percent, from 909 homes to 971. In Hamilton County, the second-most busy, deals dropped 6.5 percent, from 428 homes to 400.
The largest percentage increase came in Morgan County, with sales vaulting 32.4 percent to 94 homes. The biggest percentage slip came in Boone County, where sales slid 18.7 percent to 74.
One pending sale in the area in October topped $2 million. Nine more exceeded $1 million, and 43 were priced between $500,000 and $999,999. Nearly half of the month's deals—964—were in the $100,000 to $199,999 range. 
Please enable JavaScript to view this content.