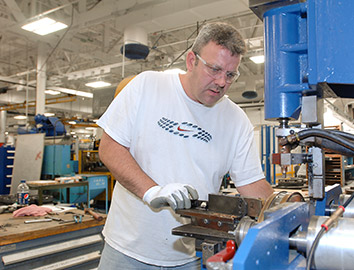 Rolls-Royce Holdings Plc intends to trim its local engine plant workforce by 200 employees and has started asking Indianapolis-based engineers to take voluntary severance packages, as the global firm follows through on plans to eliminate about 2,600 positions company-wide.
The London-based engine maker told employees earlier this week at its two plants located at Raymond Street and Tibbs Avenue that it would eliminate 200 positions, a company spokesman confirmed to IBJ on Wednesday morning.
Workers at the plants primarily build and test engines. The cuts would affect employees in production, production support, custodial and skilled trades.
Plant workers have been given the option of taking voluntary severance packages. If that number doesn't reach 200, the balance of employees would be laid off by Dec. 5, according to information provided to employees.
In addition, the company has offered voluntary severance packages to a number of the 1,500 Rolls-Royce engineers employed in Indianapolis. Employees eligible for early retirement were notified of the offers earlier this month, and Rolls-Royce could extend similar offers to other engineers down the line, said spokesman Joel Reuter.
The total number of engineering positions eliminated in Indianapolis would depend on the company's larger efforts to trim 1,200 engineers from its global workforce, Reuter said..
Rolls-Royce, the world's second-biggest maker of aircraft engines, announced on Nov. 4 that it intended to eliminate 2,600 jobs over 18 months, primarily in its aerospace division. The firm employs about 55,000 workers globally.
The firm has about 4,500 workers in 12 different sites in central Indiana, devoted mostly to civil and defense aerospace work. The majority—2,400 workers—are office-bound in a downtown complex at 450 S. Meridian St. They include engineers and employees involved in corporate services.
From a hardware perspective, its largest local operations are the two plants located at Raymond Street and Tibbs Avenue. Another nine smaller locations are devoted to manufacturing, distribution and other functions.
Rolls-Royce is struggling with slowing sales and a slumping stock price. It said last month that it was evaluating job cuts after forecasting revenue could fall again in 2015—following an anticipated decline this year—as a slowing economy prompts clients to delay orders and sanctions over the Ukraine crisis stall Russian deals.
The 2,600 cuts planned by Rolls are expected to break down as follows: 1,200 engineers; 900 operational workers, from factory workers up to managers; and 500 members of support staff within the aerospace division and corporate functions.
Some Indianapolis-based support jobs could be eliminated as part of the cuts, Reuter said.
The 200 manufacturing positions to be eliminated in Indianapolis will be the extent of the local cuts for operational workers, at least in terms of this announced round of 2,600 cuts, Reuter said.
 
Please enable JavaScript to view this content.