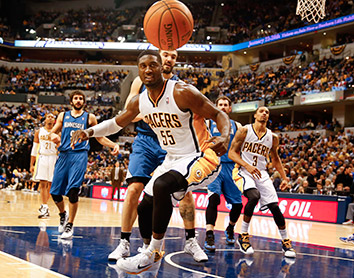 The Indiana Pacers recently signed a deal with Portland, Maine-based Shamrock Sports & Entertainment to help the team land blue-chip national sponsors in nine categories.
The primary focus of Shamrock's hunt will be outside central Indiana.
The 18-month agreement signed earlier this fall marks the first time the team has signed with an outside sponsorship sales firm in at least 15 years—and maybe ever. Team officials were certain they hadn't hired one since moving into Bankers Life Fieldhouse in 1999.
Financial terms of the deal were not disclosed, but team officials said Shamrock is paid a monthly retainer plus a commission on any deals signed. The Pacers have an option to extend the deal beyond its initial term.
Local sports marketers said the Pacers are likely looking for Shamrock to bring them a range of six-figure-per-year deals.
Pacers officials are hopeful that Shamrock's thick Rolodex will help them expand their reach to sponsors—especially those headquartered on the East and West coasts.
The Pacers are looking to ink deals with national sponsors in several categories, including auto insurance, household products, personal grooming, wireless, airlines and electronics.
While Terry Tiernon, Pacers vice president of corporate partnerships, said the types of deals the team is looking for can take some time to cultivate, he's optimistic at least one national deal could be signed early next year.
Already, the Pacers are in "active discussions" with multiple prospects Shamrock has brought to the team, Tiernon said.
When Pacers officials first considered signing an outside firm to help sell sponsorships, they were hoping to capitalize on the team's on-court success the past three seasons.
But things have changed dramatically since then, with one starter—Lance Stephenson—lost to free agency and several others lost to injuries. Most NBA observers think the Pacers will struggle to make the playoffs this year.
Still, Larry DeGaris, director of academic sports marketing programs at the University of Indianapolis, said the Pacers' brand remains attractive.
"The character of the team they've put together is very appealing to sponsors and most people understand that, in time, the on-court performance will improve," DeGaris said. "The team's owner has shown a commitment to winning and [basketball operations chief] Larry Bird has shown he knows how to put together a good team."
Shamrock was founded in 2010 by sports marketing veteran Brian Corcoran. While the Pacers are Shamrock's first NBA client, other clients include NASCAR, the Pro Bowlers Association and World Series of Poker.
Corcoran made a name for himself as NASCAR's managing director of corporate marketing from 2002 to 2008. He was one of the primary people responsible for signing Nextel to a 10-year title sponsorship deal reportedly valued at $750 million. He was also part of the team that signed Nationwide as title sponsor for NASCAR's No. 2 series.
Previously, Corcoran worked for Boston-based Fenway Sports Group, SFX Sports Group and Host Communications.
Tiernon said Pacers officials chose Shamrock after an exhaustive search and after consulting with NBA officials in New York.
"I wanted to work with an agency no other NBA team was working with," Tiernon said. "We wanted someone that was going to be hungry, that was interested in making their bones [in the NBA]."
The Pacers currently have 130 sponsors, more than the 80 or so most NBA teams have. But many of those deals are small and local. Tiernon said the Pacers are emphasizing more category-exclusive deals and might pare down the number of sponsors to 100.
"We want to be the primary platform for our sponsors, so we're looking for more exclusive deals," Tiernon said. "But we want to be careful not to alienate anyone in Indianapolis. We want to embrace all local businesses."
Shamrock's Corcoran said the Pacers have some "premium inventory" to take to potential sponsors.
"It's a nice complement to the rest of our portfolio and a nice blue-chip brand to have on our roster and leverage the relationship we have with some key categories," he said.
Please enable JavaScript to view this content.