A dispute between one of the nation's largest frozen yogurt chains and a local franchisee has sparked dueling lawsuits, in one of which the franchisee is seeking $33 million in damages.
Chintu Patel of Greenwood, who once operated as many as 43 Orange Leaf frozen yogurt shops, including 10 in central Indiana, filed suit Nov. 3 against the Oklahoma City-based franchise in federal court in Indianapolis.
He claims in his 111-page complaint that Orange Leaf misled him and made false statements about store revenue to coerce him into opening shops outside of Indiana—in Illinois, Florida and Tennessee.
Orange Leaf has countered by suing Patel for unspecified damages in a federal court in Oklahoma. The chain claims Patel breached his contract and is infringing on Orange Leaf's trade dress by continuing to operate certain stores despite terminating his franchise agreements.
Patel's lawyer, P. Adam Davis, didn't respond to requests for comment.
An Orange Leaf spokeswoman said in an emailed statement that "the claims and amount sought by Mr. Patel are more of an attempt to get attention than they are reasonably related to the disputes between the parties."
The contentious back and forth comes at a time the popular frozen yogurt industry may be showing signs of oversaturation. Since early 2011, Orange Leaf has expanded from 63 to more than 300 locations nationwide.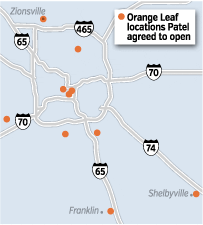 In Indianapolis, several fro-yo shops have closed in recent months, including Huddles in Carmel and Yo Yo in Zionsville, as well as three of Patel's Indianapolis Orange Leaf locations: downtown at CityWay, on East 10th Street, and in Broad Ripple.
Gary Perel, a retail broker at Newmark Knight Frank Halakar, expects the slowdown to continue.
"It seems like the yogurt business went through a hyper-growth phase where too many concepts—either regional, national or one-offs—were trying to get into the space," he said. "It was the concept du jour for a couple of years."
Frozen yogurt concepts perform better in warmer climates where operators can expect consistent year-round revenue, Perel said. And because they're usually not a destination, yogurt shops often locate in lifestyle centers where rents are more expensive.
"You have to do such high volumes to make money in the yogurt business," he said.
Patel found that out quickly, according to his suit. He pursued a franchise after visiting a store in April 2011 in Lexington, Kentucky, but became concerned whether the territories Orange Leaf offered him could support a store, particularly those without an existing Orange Leaf presence.
By showing him financials from five stores, company executives assured him that his stores would do at least $500,000 in annual sales. Patel maintains, however, that they misled him by omitting sales from the fall and winter months for three of the stores, while the two other stores are in Florida where cold weather is not a concern.
"Bottom line is that the franchisor, its affiliates and its top management held themselves out to the public and franchisees as having specialized skills and experience with regard to the operation … when in reality they simply had no experience whatsoever with the franchise system and its systems and operations," Patel argues in his complaint.
Originally known as Orange Tree Frozen Yogurt, the franchise was founded in 2008 and purchased by its current ownership in 2010, not long before Patel became a franchisee.
Patel also asserts in his suit that he sought to open Orange Leaf locations only in Indiana but was told only "multi-unit development agreements" were available, to induce him into launching stores where Orange Leaf was having difficulty expanding.
All told, Patel agreed to open 14 locations in Indiana, 15 in Florida, eight in Illinois, and six in Tennessee.
Not every store came to fruition, however. Patel agreed, for instance, to open a shop in the 3Mass development on Massachusetts Avenue. The owner of the development in February sued Yummy Yogurt Indy LLC, a Patel affiliate, for breaching its lease. The case remains open in Marion Superior Court.
Besides Patel, at least two other Orange Leaf franchisees are fighting for a share of the crowded Indianapolis market. A sampling of the market includes TCBY and Pinkberry, the nation's largest yogurt franchises, in addition to the likes of Huddles, Menchie's and the similar-sounding Yoya, FroYo and Yo Joy.
"Inevitably, with all of them coming at once, there's bound to be a fallout," said Steve Delaney, a restaurant broker at Sitehawk Retail Real Estate. "But I've always thought that Orange Leaf is one of the more successful ones."
Indeed, Bloomberg reported last year that an Orange Leaf initial public offering could be on the horizon in 2015.
Delaney said franchisee suits typically involve several owners seeking class-action status. In this instance, Patel stands alone. But his days as a franchisee are not over. He's opened Gandolfo's New York Deli shops in Noblesville and in the CityWay space formerly occupied by his Orange Leaf.
Orange Leaf is asking the federal court in Indianapolis to transfer his suit to Oklahoma so it can be consolidated with the complaint the company brought against him, according to court documents.•
Please enable JavaScript to view this content.