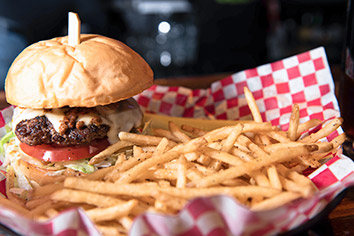 What happens when a new kid comes to town sharing a similar name as a local guy? Confusion? Rivalry? Nobody really caring?
It's too soon to know which of the above will be sparked by the arrival of Bubba's 33 (9770 North by NE Blvd., Fishers, 915-7427), a hamburger joint from Fayetteville, North Carolina, owned by the Texas Roadhouse folks. Sporting a name easily blurred with local burger favorite Bub's, its recently opened spot here is only its second, with two more set to go—in Albuquerque, New Mexico, and Corpus Christi, Texas.
Clearly, proximity is not a key element in the expansion plans.
Despite the similar names, there's no confusing the burgers themselves. Where offerings at Bub's are thin and eminently stackable, Bubba's are thick and, in most cases, consist of 33 percent ground bacon.
The Bubba's 33 Bacon Burger ($8.99)—dressed in Thousand Island-ish Bubba sauce and topped with American cheese, smoked bacon, lettuce, tomato and onion—didn't make a strong case for the flavor of the pork blend. Moist and hearty, but not memorable, The South of the Border Burger ($9.99) was helped by its white queso, spicy chorizo sausage (made from scratch) and the lettuce/tomato/onion trio. Neither, though, make a compelling case for bypassing a dozen other burgeries on the road to Fishers for this one.
Fried Catfish ($11.99) demonstrated some effort—hand-breaded planks with a decent remoulade sauce—but no inspiration. Garlic Mashed Potatoes on the side and a freezing cold Bubba's 33 beer special ($5) helped. (Can you really call something a "special" if it's served at the same price every day? Just asking.)
Better was the Shotgun Shrimp Po' Boy ($9.99), with fried shrimp settling into a spicy cream sauce and giving a surprising sweet and sour taste. Best of the meal: the Philly Steak Pizza ($12.99/$17.99) a hand-tossed sauce-less pie with sautéed ribeye steak shavings, strips of red pepper, caramelized onions and mushrooms.
I'd tell you about the Seasoned Fries and Sweet Potato Fries but they were among the problems—along with minor salad modifications ignored by the kitchen and a long, long delay after appetizers that even concerned the waitress—that diminished our experience. For the record, we were granted reasonable bill adjustments, but here's hoping a bit more experience will iron out those problems.
What won't change, though, is the restaurant's boast of having more TVs than tables. Without actually counting, that seems accurate and, for some, that might certainly be appealing. For others, it adds up to sensory overload. The fact that 1980s music videos were mixed in with the sports broadcasts could be an equal draw/turnoff—although it was nice to see playful, "Borderline"-era Madonna and "Always on My Mind" Willie Nelson still getting play.•
Please enable JavaScript to view this content.