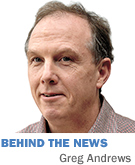 Steak n Shake boss Sardar Biglari is so wedded to the company's $4-meal strategy that, at many locations, the pricing is part of the permanent signage.

Some franchisees have been just as entrenched, arguing in a wave of lawsuits last year that the Indianapolis-based chain overstepped its rights when it banned independent operators from setting their own prices in 2010.

They argue that the policy puts them in a financial vise. Court papers filed by the chain say one Denver franchisee was so desperate to eke out higher margins while keeping headquarters officials at bay that it gave most diners $5.08 menus but distributed $4 menus to those savvy enough to ask.

Are the two sides starting to find common ground? A court filing this month suggests that's the case with St. Louis-based Druco Restaurants, owner of two Missouri Steak n Shakes, reaching a settlement with Steak n Shake.

Terms were not disclosed, so it isn't clear whether Druco won more leeway on pricing, at least on items outside the chain's core $4 promotions.

Two other plaintiffs whose cases were separate before they were consolidated into Druco's have not disclosed a deal. But the fact that the same legal team represents all three plaintiffs might suggest more settlements are brewing.

Representatives of Steak n Shake and franchisees declined to comment or didn't return calls.

The Druco settlement comes just two months after a federal appeals court handed Steak n Shake a setback, rejecting its argument that all the franchisee pricing disputes must be resolved through arbitration.

The appeals panel found arbitration language in Steak n Shake franchisee agreements is "simply too vague and indefinite to be enforceable."

This isn't the first time courts have been unfriendly to the company's position. In 2011, Stuller Inc., the nation's oldest Steak n Shake franchisee, won an injunction to stop the chain from forcing menu prices on its five restaurants.

Steak n Shake appealed, but in 2012 an appeals court affirmed the injunction.

Even after the failed appeal, Druco said in court papers, the company "held steadfast in its ongoing, system-wide, breach of [franchise] agreements by continuing to force its franchisees to abide by the policy."

Druco argued its case was clear-cut, given that nothing in its original franchise agreements in the late 1980s or 20-year renewals struck in the early 2000s barred it from setting its own prices.

It wasn't until after Stuller sued in 2010 that Steak n Shake reworked its franchise agreements to state repeatedly that it has the right to impose maximum prices. Druco says that new language does not retroactively apply.

Biglari, who imposed the new pricing strategy two years after wresting control of the Indianapolis chain in 2008, sees cheap food and franchising as the keys to turning Steak n Shake into a global brand.

Biglari
In a December 2013 letter to shareholders of Biglari Holdings Inc., the San Antonio-based parent of Steak n Shake, Biglari wrote: "We are subscribing to Sam Walton's philosophy in which he stated, 'By cutting your price, you can boost your sales to a point where you can earn far more at the cheaper retail price than you would have by selling the item at the higher price.'"

Combining that strategy with franchising is a potent combination, Biglari argues. As he wrote in his 2011 letter to shareholders, "The basic formula is, you're growing your business using other people's money and other people's management expertise."

Even so, given that 78 percent of its 535 locations are company-owned, Steak n Shakehas no incentive to force an unprofitable business model on restaurants. The chain maintains that well-run franchisees have abundant opportunities to prosper.

That doesn't mean there won't be hitches—and unprofitable franchisees that point their fingers at headquarters when things go awry.

The latest is Cornerstone Investment Partners, which sued this month, asserting officials made false and misleading statements about Steak n Shake Signature, a new counter-service-only format.

Cornerstone opened the chain's third Signature in a Paramus, New Jersey, mall in October 2012. The eatery is experiencing "severe and significant" losses, the lawsuit says.

The suit says that, at a meeting at the Waldorf Astoria hotel in New York City in January 2012, Biglari told investors in the franchise to "trust him" that he had fully researched the viability of the concept. In the meeting, the suit says, Biglari compared Steak n Shake Signature to In-N-Out Burger, a wildly successful West Coast chain featuring only counter service.•