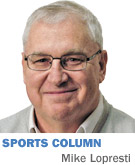 The thought came to mind while watching a guy carry an American flag past Adam Vinatieri during pregame field goals at Lucas Oil Stadium. It's a fact. Vinatieri is only 13 years younger than the newest state on that flag: Hawaii.
And still, through the New England game, he had tried 22 field goals this season and made 22—and most of them he could have been aiming for your front door, they were so straight and true. When will he ever run out of field goals? When will your teenager ever run out of things to text? Either way, the supply seems limitless.
Or as noted optimist Bill Belichick said the other day, "The way he's kicking now, I don't see where the end is in sight."
So how old is Vinatieri, really? Is this when the archeologists come out with their carbon dating equipment? Yeah, the bio says he'll turn 42 next month, but we can find other ways to put the age of the NFL's oldest player in perspective.
When Vinatieri kicked his first NFL field goal, here were some of the men starting at quarterback in pro football: Steve Young, Dan Marino, John Elway, Brett Favre—and Jim Harbaugh for the Indianapolis Colts. Peyton Manning was at Tennessee. Tom Brady was a freshman at Michigan. Andrew Luck was in the first grade.
Vinatieri is older than 27 NFL stadiums, and 45 countries. He was born before the Pittsburgh Steelers, San Francisco 49ers or New York Giants ever played in a Super Bowl. In his lifetime, the Hoosier/RCA Dome went up and came back down. So did Market Square Arena.
He's 41 and still kicking a football for a living, building his legend three points at a time. By the time she was 41, Queen Elizabeth had been on the throne of the British Empire for 15 years. By the time he was 41, Michael Jordan had retired. Three times.
By 41, Red Auerbach had already coached the Boston Celtics to an NBA championship. Pat Riley had coached the Los Angeles Lakers to two.
By 41, Jack Nicholson had already made 35 movies and Elizabeth Taylor had already been married five times. Thomas Jefferson had written the Declaration of Independence, Neil Armstrong had walked on the moon, Michelangelo had painted the Sistine Chapel, Abraham Lincoln had served his one and only term in Congress, Albert Einstein had come up with the theory of relativity, Jonas Salk had developed the polio vaccine, and Charles Dickens had written both "David Copperfield" and "A Christmas Carol."
By 41, John Madden was a Super Bowl champion head coach. Jim Brown had been retired for 12 seasons. Jim Irsay had been owner of the Colts for four years. Chuck Pagano had been an assistant coach at five colleges.
The year Vinatieri was born, Richard Nixon was in his first term in the White House and Bob Knight was in his second season at Indiana.  There were only 25 teams in the NCAA Tournament and 11 bowl games in college football. The Pacers were in the ABA. The World Series was played in the daytime.
He's nearly two years older than Pep Hamilton, the offensive coordinator who calls the Colts plays, and nearly 36 years older than Lucas Oil Stadium, the place he calls home. As a New England kicker, he saved the first Super Bowl run for Brady and Belichick 13 seasons ago.
He had 10 years with the Patriots. For most men, that would be a long NFL career. Then he's had nine more here. His career predates Twitter, Facebook and the Houston Texans.
His first NFL coach was Bill Parcells. When he signed with New England—as a free agent, since nobody wanted him enough to draft him—Belichick was already with the Patriots. As a secondary assistant.
The same year Vinatieri started kicking NFL field goals, Barack Obama was a lecturer at the University of Chicago Law School. Now, one is in the White House and the other is still working on Sundays.
Vinatieri helped the Colts win Super Bowl XLI. And now he's XLI himself.
When will it end? He made a 53-yarder against the Patriots and had room to spare, matching his longest in the past 12 years. He is the only perfect field-goal kicker in the league this season among those with more than 10 attempts. The kids, they pull a few.
"Waiting for him to miss," Belichick said, "you'll be waiting all day."
Aw shucks, is Vinatieri's usual reaction, more or less.
"I take it one day at a time," he said. "We'll see how far it goes."
Presumably, he will be trying field goals for the Colts on his 42nd birthday on Dec. 28 at Tennessee. On that afternoon, he will be 2,922 days away from being eligible for AARP membership.
So now we all know how old he is. But he doesn't.•
__________
Lopresti is a lifelong resident of Richmond and a graduate of Ball State University. He was a columnist for USA Today and Gannett newspapers for 31 years; he covered 34 Final Fours, 30 Super Bowls, 32 World Series and 16 Olympics. His column appears weekly. He can be reached at mlopresti@ibj.com.
Please enable JavaScript to view this content.