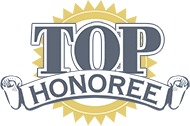 Adlai Chester
Chief Financial Officer, Mainstreet

(IBJ photo/Eric Learned)
In high school, Adlai Chester—now CFO for transitional and long-term health care property developer Mainstreet—wanted to join the FBI.
"There were several ways to get in," he recalled. "One of them was accounting."
So, when he started college at Indiana University, he double-majored in accounting and criminal justice. Financial reality led him to transfer to Ball State and move in with a family friend. The move proved fortuitous: In his sophomore year, Chester landed an internship at PricewaterhouseCoopers, found he enjoyed auditing, and dropped criminal justice.
"I actually ended up working four different internships at college, and always in something that would benefit my career," he said. "My roommates worked at a mall or in a restaurant; I was working at a tax firm or a bank. I always wanted to do something with a purpose in mind."
Those experiences laid the groundwork for a series of jobs, eventually putting Chester in the controller role at Rutter Communications, where he was promoted to CFO—after only 18 months. There, he recommended, negotiated and concluded the sale of three divisions to Comcast Spotlight Inc., which proved a boon to shareholders.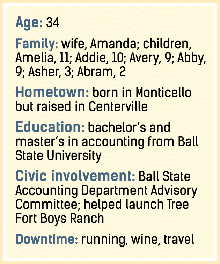 But Chester saw the writing on the wall for the company.
"It was going to have to reinvent itself," Chester said. He approached the owners of Rutter with the recommendation that they put the business on the market and reinvest.
"They digested what I said, saw what I saw, and we went ahead and sold the company," said Chester, who knew that move meant he'd have to find another job.
He considered full-time teaching—he was already leading classes at Ball State, something he took up because he wanted to get better at public speaking. But an attorney friend suggested he talk to Mainstreet, which had been outsourcing its CFO role but realized it was time to bring somebody in house.
The timing wasn't ideal: Chester and his wife were in the process of adopting two girls from Uganda—a process that would take years. Offered the job, Chester said he was flattered but didn't think he could give it the time it needed. Two days later, he was told Mainstreet wouldn't take no for an answer. Together, he and management would have to figure out a way to make it work.
It did work. Under Chester's financial guidance, Mainstreet's portfolio of $100 million in properties has grown to a value of $950 million. Chester raised capital to take the Mainstreet portfolio public as HealthLease Properties. Its 2012 initial public offering raised $107 million.
In August, Mainstreet agreed to sell its real estate investment trust to—and partner with—Ohio-based Health Care REIT Inc., one of the largest health care real estate companies in the world, on 45 future senior-care campuses. In all, the deal is worth more than $2.3 billion.
While Chester was employee number five for Mainstreet, the head count is now more than 150.
The lengthy adoption process also proved an educational one.
"It taught me focus," he said. "Through all of it, I had other kids to take care of, my wife was going through a lot emotionally, and the company was full steam and growing extremely fast. When I've been at my best, it's when I've had my priorities in check. Faith and family first. When you don't have your priorities straight, everything can be extremely stressful."
To read other CFO of the Year profiles, please click here.
Please enable JavaScript to view this content.