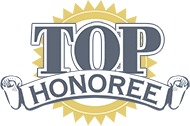 Scott Reinholt
Chief Financial Officer, Maple Leaf Farms Inc.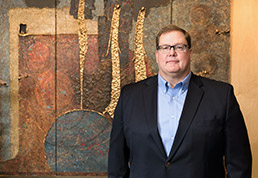 (IBJ photo/Eric Learned)
"If you go into a restaurant and have duck," said Scott Reinholt, "It's likely a Maple Leaf duck." It's also been on the plate of the Queen of England and was served at President Obama's first inaugural lunch.
More than just crunching the numbers for the fourth-generation, family-owned Leesburg-based company, Maple Leaf Farms' chief financial officer is determined to help grow interest in the prime product of the industry leader.
"We really are focused on trying to grow consumption of duck, introducing it into people's daily diet," he said.
That means far more than just roast duck and duck a l'orange. It means aggressively trying to have duck dishes included in cruise line fare ("People are more adventurous there"), as the appetizer side of restaurant menus ("Where people are more likely to give it a try"), and in the zap-able frozen food section of your neighborhood grocery store.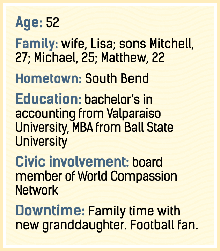 While duck meat constitutes 90 percent of Maple Leaf's business, the vertically integrated company also produces down feathers (through wholly owned subsidiary Eurasia Feather Co., which Reinholt serves as president) and feed, and owns its own processing plants.
"That integration," Reinholt said, "ensures a quality product."
Maple Leaf also manufactures chicken patties, nuggets, etc., under the Milford Valley brand.
Whether he's dealing with orthopedic instruments, automotive products or waterfowl, Reinholt—who previously worked with Zimmer Inc., Dalton Corp., CAPCO and Price Waterhouse—has learned that finance and accounting are primarily about supplying information that leads to better decisions.
"It's not an island of its own," he said, "but a partner to the other areas."
That partnership approach has paid off for Maple Leaf Farms, the largest duck producer in America. When Reinholt joined Maple Leaf in 2002, it was significantly leveraged, with the family ownership discouraged by the lack of return on equity. Reinholt strengthened cash management controls, improved margin analysis for products, introduced a stronger sales forecast process, pushed for more timely sales reporting, and implemented a new process for requesting capital outlays.
He was key in moving Maple Leaf from C to S corporation status, putting all ownership in the hands of the Tucker family. After commodity costs increased in 2007, Reinholt shed inefficient assets and plants and refinanced debt, finalizing the agreement just two days before the 2008 stock market crash.
Since then, the company has been profitable 68 of 73 months, reducing debt from $39.5 million to $11.4 million. Return on equity jumped from 0.2 percent in 2002 to 13.6 percent in fiscal 2013. From 2009-2013, it averaged 15.1 percent.
Is the sky the limit for ducks?
North Americans consume 25 million to 30 million ducks per year. But in China, it's more than 3 billion.
Speaking of China, the leading consumer of duck also has an interest in Maple Leaf Farms. In 2007, the company began making its custom-breeding research available to the world market.
"That market is a tremendous opportunity," Reinholt said. "The joint venture we launched [with Shandong Yong Hui Food Co. in eastern China] in 2010 is very strategic in terms of growing the genetic side of our business."
To read other CFO of the Year profiles, please click here.
Please enable JavaScript to view this content.