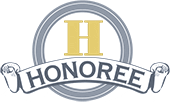 Diann McKee
Vice President for Business Affairs and Finance, and University Treasurer, Indiana State University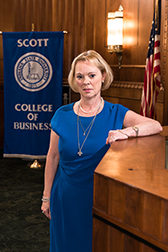 (IBJ photo/Eric Learned)
"No two days are the same," said Diann McKee, an alumnus of Indiana State University who has circled back to become its chief financial officer.
"Indiana State University transforms lives," added the first-generation college graduate. "It certainly transformed mine."
McKee grew up in a family that, due to her father's disability, relied on her mother as sole support.
"My mother didn't have the advantage of a college education," McKee said, "and she really instilled in me its importance."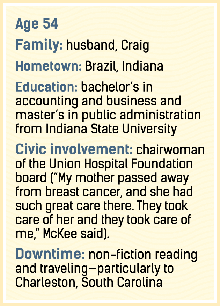 After graduating, McKee was hired by the Indiana State Board of Accounts in Indianapolis with audit responsibility for all government units—public colleges, cities, counties, etc. She was lured back to Indiana State by an internal-audit position that allowed her to simultaneously work on her master's degree.
One of the differences she found between working in state government and working at the university was that, at Indiana State, "we work in a very inclusive and collaborative way to make sure we have engaged all of the stakeholders."
She's spent 27 years at ISU, the last six as chief financial officer. Today, her responsibilities include not just the financial aspects one would expect, but also facilities maintenance, campus police and human resources.
And she has had a significant impact. In the midst of cuts in the university's state appropriation, McKee found ways to keep the budget in check. She developed a tiered investment policy for the university to address risk and liquidity needs, created a trust to fund retiree health coverage, expanded opportunities for minority-owned companies to do business with the university, and developed a car-share program to help students.
Under her guidance, the university used long-term hedge contracts to control fuel costs and also replaced a coal-burning steam plant with one fired by natural gas. McKee also launched a program to store construction documents in the cloud, eliminating the expensive task of duplicating documents for contractors. In addition, she expanded a campus recycling program into a statewide model, diverting 50 million pounds of waste from local landfills.
McKee has done all this with an eye toward the student bottom line.
"We strive to maintain affordability," she said. "Many [students] are first-generation. Many come from lower-income families." Since developing the Pathway to Success strategy in 2009, ISU enrollment is up 26 percent, to more than 13,000. The goal is 14,000 students by 2017.
"The amount of state support that the university receives for operating purposes has declined," she noted. "It means you have to be more creative."
McKee said being an ISU alumnus has helped her be more effective.
"It gives you a deeper appreciation for the institution," she said. And as a longtime resident of Terre Haute, she's proud of the impact the school has had on the community.
"Indiana State has played a large role in the transformation of Terre Haute," she said. "It's a much different place than it was 10 or 15 years ago and I'm excited to be a part of that."
To read other CFO of the Year profiles, please click here.
Please enable JavaScript to view this content.