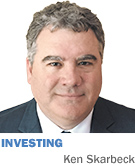 U.S. stock market investors have plenty to be thankful for these days. The Great Recession did not turn into a depression. And while our economy continues its long struggle to recover from the severe shock of the financial crisis, the economic environment is improving. There is still work to do, particularly in employment and wages, but a continuing recovery appears to be on track.
The stock market? Well, it is at an all-time high. In fact, the performance of stocks during the recovery has been nothing short of stunning.
At its low, the Standard & Poor's 500 index closed March 9, 2009, at 676 (the intraday low on March 6, 2009, was a devilish 666). Remarkably, in the 5.7 years since, the index tripled, to 2,068. That is equivalent to a gaudy 21.7-percent annualized return.
Investors can be excused if they don't necessarily feel euphoric over the market's performance, because so much was given back during the 2008-2009 downturn. Few investors would have had the fortitude to pour large sums of cash into stocks at the bottom, but those who did not sell stocks have been rewarded. Steadfast investors are seeing new highs as the market indexes are now some 20 percent above the high reached in 2007 before the credit crisis.
Those who attempt to time the market are usually humbled. One's ability to pick the ideal entry and exit points from the stock market is illusory. Investors who make "all out or all in" decisions with their portfolios must continually make correct decisions of when to get back in or out.
Warren Buffett long ago suggested that investors would prosper if they began their investment career with a punch card that had 20 punches. Speaking to University of Notre Dame students in 1991, Buffett told them that every time they make an investment decision, they used up one punch.
Buffett advised them they would not get 20 great ideas in their lifetime. They're going to get five, or three or seven, and you can get rich off of five, or three or seven. But what you can't get rich doing is trying to make a new investment decision every day.
Relying on market movements and macro economics to dictate investment decisions is generally a poor strategy. Over the past five years, there have been a multitude of reasons to avoid stocks.
Even today, a look around the globe can scare jittery investors. The Middle East is once again imploding, Russia is reverting to Iron Curtain-like politics, and central banks are pursuing monetary policies never before tried—not to mention our own political gridlock. These problems have kept macro investors significantly underinvested in stocks since the crisis.
The secret to long-term wealth accumulation is owning a business that is going to grow over time. And owning stocks is just that; they represent the fractional ownership of a business. Identify a good business at a fair price run by competent management and then you don't have to pay attention to daily swings in the stock market.
Over the long run, our economy is going to grow and prosper, and one of the best ways to benefit from that is to accumulate a select portfolio of stocks over an investment lifetime.•
__________
Skarbeck is managing partner of Indianapolis-based Aldebaran Capital LLC, a money-management firm. His column appears every other week. Views expressed are his own. He can be reached at 818-7827 or ken@aldebarancapital.com.
Please enable JavaScript to view this content.