Some downtown workers might not be aware of this, but there's actually a land south of Interstate 70—a place where lunch-time eateries offer free parking, the burgers don't cost $9, and many of the customers actually live in the neighborhood.

But many near-south-siders knew—and loved—Sisters' Place, which reigned for more than 30 years. Situated across Madison Avenue from the BMV branch (the one that just might have the nicest employees in the system), Sisters' built a loyal following of biscuits-and-gravy-loving patrons, who groaned in April when a change in ownership shut the place down.

Their disappointment was quickly turned to cautious optimism when the new owners renovated and recently reopened the quiet landmark. And from the looks of the crowd on a pair of recent visits, those patrons are flocking back, willing to take a shot at the newly expanded menu. The place is still bustling with activity—multiple generations of families, groups of retirees, middle-age couples—and a staff that seems bred in diners, this one or others.

Always a place where breakfast reigned, Sisters' Place (215 Terrace Ave., 631-0441) still offers morning fare until closing time. On one visit, I tried the Spanish Skillet ($7.95), which surprised by seeming to have more chorizo sausage than it did diced potatoes. If anything, such creations can be skimpy with the meat, but this one actually could have used a bit more green pepper and onion.
Ordering the skillet led to an interesting mathematical/philosophical question: Are two substantial pancakes—sizable, consistently cooked, and fluffy without losing their texture—the equivalent of one diagonal-cut piece of French toast? Such is the seemingly unbalanced choice one must make when picking sides for this or other breakfast entries. But I suppose when you are paying only $10.95 for steak and eggs or $6.75 for a cheese omelet, getting either of those on the side—in the case of the steak, along with fries—is just fine.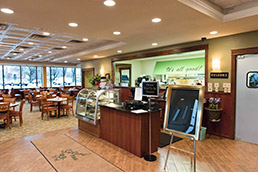 Sisters' Place is winning back neighborhood regulars. (IBJ Photo/ Eric Learned)
But there are also burgers ($5.95-$6.95), Manhattans ($7.25), pastas (all under $10), basic seafood, steak, chops, and more—all at keep-the-neighbors-happy prices. The diner staple, the Bacon, Lettuce & Tomato Club ($6.75), could have used crisper bacon and the bread was a bit thin, but it was a respectable version of the comfort-food staple. It's served with chips and a pickle—adding French fries or onion rings would tack on a mere $1.35. The French Dip ($7.15) came on a dry white roll, rather than the onion ciabatta advertised on the menu. The accompanying pale broth helped the sandwich go down.

Pies are on display in a case near the register, but on separate visits I got different messages as to whether they were made in house. Both the Banana Cream and the Chocolate Cream ($3) featured flaky crusts, just thick enough to hold the goods. Both could have used more flavor in the filling, and a bit less cream, but they were serviceable enough to keep our forks busy.•

—Lou Harry