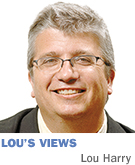 In most situations, I keep mum in these pages about the books I've contributed to. Conflict of interest and all that. But since all the writers—including me—involved in the new anthology "Indy Writes Books" have donated their work, and because the proceeds are going to such a worthy cause, I've lifted that self-imposed ban.

Since best-selling author John Green attracted hundreds to a book signing/store launch back in 2012, the spacious, comfy Indy Reads Books (911 Massachusetts Ave.) has offered a steady stream of word-focused events—including book signings, writers' group meetings, and a free monthly play-reading event that I'm honored to co-run.

"Indy Writes Books"—pre-funded by sponsors so that all sales can go directly to Indy Reads—includes an introduction and essay by Dan Wakefield (who penned the legendary Indiana-set book "Going All the Way"), fiction by Ben H. Winters (author of "The Last Policeman" series), poetry by a pair of former Indiana Poet Laureates, (Norbert Krapf and Karen Kovacik) and even a puzzle by New York Times Crossword Editor Will Shortz.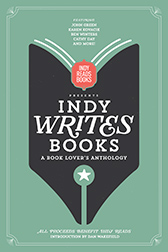 John Green and Dan Wakefield are among authors represented in new book.
My favorites: Novelist Cathy Day's inspired "Your Book: A Novel in Story," which knowingly chronicles the life story of a book in today's publishing world, and Susan Neville's "The Dead," which plays off James Joyce's famous short story as an academic contemplates life and death while mourning a colleague over appetizers and drinks at Binkley's. I enjoyed the insight of Ray E. Boomwer, who matter-of-factly shares stories of Indianapolis' first newspaper and the state's less-remembered-than-Riley poet, William Herschell. And I'm partial to the poetry of my IBJ colleague Bonnie Maurer, represented with seven pieces of verse, including the book's closing piece.

Television variety shows such as "The Ed Sullivan Show" used to offer audiences a little of this and a little of that, introducing them to a range of styles in an unintimidating way, making it easy to shake off a dud while continuing to mine for gold. That's what a good anthology such as "Indy Writes Books" does as well. Not all pieces will be for all tastes (and some copy-minded folks might be bugged by a few typos), but I know I'll be wrapping some copies of the book up for the holidays. And I hope you will, too.•

__________

This column appears weekly. Send information on upcoming arts and entertainment events to lharry@ibj.com.