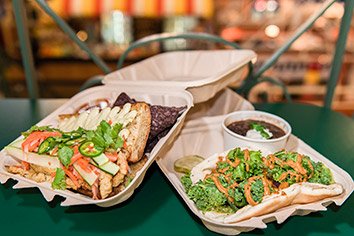 It used to be that going out to a purely vegetarian dining establishment in Indianapolis automatically meant visiting an ethnic restaurant. Why would a Hoosier eatery bypass the lucrative meat-eating market if it didn't have something enticingly exotic to offer?
But times are changing. Indy's dining offerings are getting more diverse, and it was just a matter of time before someone staked a claim in City Market to appeal to the no-cow crowd.
Enter Three Carrots (222 E Market St., 403-5867), a small kitchen cubicle with a logo sporting the root-vegetable equivalents of Manny, Moe and Jack. We decided to see if four non-vegetarians could find satisfaction there.
After placing our order, one of my impatient lunchtime companions picked up a Zucchini/Walnut Muffin ($3) as an appetizer, describing it later as mildly flavored, not too sweet, chock full of nuts, and suitably moist and filling. Since he's not a good sharer, I'll have to take his word for it.
The Veg Out ($7.50) featured marinated eggplant and mushrooms sautéed with roasted seasonal veggies, served on warm pita with basil pesto and pepita romesco. It was fine once the substance of the combo was found under a mountain of kale. The Kale Salad ($6) was also dominated by the nutrient-packed leaf, dwarfing the fruit, toasted almonds, red peppers, and cranberries that dotted it.
Another companion took an experimental bite of the Banh Mi Sando ($7.50) and quickly discovered he didn't have a taste for seitan, a wheat gluten used in many vegetarian dishes.
"Too spongy for my limited tolerance of strange textures," he said. However, the dressing—combining soy sauce, ginger and garlic with carrot shavings and pickled daikon—was light, fresh, sweet and savory. Fresh jalapenos were provided for an extra kick, along with toasted bread, useful for dipping in the easy-on-the-spice salsa that came with the blue tortilla chips.
For something more familiar to newbies, the Marcus Brutus ($7) is Three Carrots' gluten-free version of the classic Caesar salad. The restaurant was out of Caesar dressing and offered a fairly tasty cucumber dressing as a substitute. The salad contained a generous supply of shredded romaine and enough red onion, cucumbers, tomato and homemade croutons to make it interesting.
This diner was more receptive to the added Garlic-Herb Seitan (a $2 upcharge), finding it a worthwhile addition that turned what could have been an appetizer into a meal. Chili ($4) meant a dark cup of chocolate- and coffee-enhanced slow-cooked bean and tomato chili served with cashew creme fraiche. It advertised a "ton of peppers," but could have used a few more.•
Please enable JavaScript to view this content.