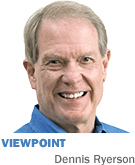 DENVER—The large envelope arrived by mail in mid-October and I opened it with relish.
A favorable performance report from my investment adviser? A batch of money-saving coupons? My season pass and related material from the Winter Park ski area?
None of the above.
It was my official state of Colorado election ballot.
Beginning this year, Colorado joined Oregon and Washington in having mandatory mail-in voting. Mandatory in the sense that all voters were required to be mailed ballots, which then could be filled out and returned by mail, deposited in drop boxes, or returned to the several "Voter Service and Polling Centers" in each county. Voters if they so chose also could vote in person at the aforementioned centers before or on Election Day.
The process was approved in 2013 by the then-Democratic Legislature over strong objections from Republicans who forecast fraud and various other potential problems. It also was no secret that the GOP feared the process would greatly benefit Democrats by generating higher turnout from younger or lower-income or minority or other traditionally Democratic targets.
The results? Virtually no reported cases of fraud and a turnout that favored the GOP far more than Democrats. Vote-by-mail balloting was a boon for traditionally more conservative older residents (more than 60 percent of the vote came from people 50 or older). It enabled the GOP to mount an effective campaign to turn out "low propensity voters." Something like 41 percent of the mailed-in ballots were from GOP voters, compared with only 32 percent from Democrats; the remainder were unaffiliated.
Election observers here say it was key to the defeat of Democratic U.S. Sen. Mark Udall, the election of a Republican U.S. House candidate in a hotly contested race in a suburban district east of Denver, and the Republican takeover of the Colorado Senate.
More important, it did two other things:
1. It enabled voters like me to research such various ballot initiatives as the required labeling of genetically modified food (it failed) and requiring school board/teacher union negotiations to be conducted in public (it passed). I could inform myself about down-ballot races such as those for judges and the Legislature.
2. It resulted in Colorado's having one of the higher turnout rates in the country—more than 53 percent.
Contrast that turnout with Indiana's, not far north of 29 percent.
For sure, Indiana's elections were a snooze this year with no top-of-the-ticket races. But low turnout has for years been a hallmark of Indiana elections and why not?
Indiana is one of only a third of the states that requires an excuse to be submitted for a person to get an absentee ballot. It doesn't allow early voting. Voters must be registered a month before an election (Colorado—as is the case with other high-turnout states like Minnesota, Washington, Oregon and Wisconsin—allows same-day voter registration.)
Worse, Indiana, along with Kentucky, has the earliest poll-closing times in the country. If you are stuck in traffic and can't make the 6 p.m. closing time, you're outta luck.
There's growing cynicism about the electoral process in this country, which increasingly is controlled by big-money special interests from the left and the right. One way to counter that would be an election system that encourages rather than discourages voting and that provides for a more thoughtful and deliberate process.
More states are recognizing that. What say you, Indiana?•
__________
Ryerson, retired editor of The Indianapolis Star, now lives near his adult children and their families in Denver. Send comments on this column to ibjedit@ibj.com.
Please enable JavaScript to view this content.