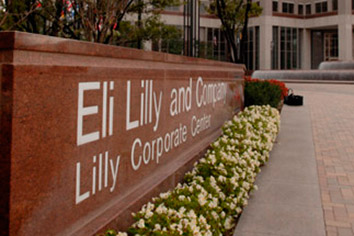 Federal prosecutors in Indianapolis dropped all charges against two scientists accused of stealing trade secrets worth $55 million from Eli Lilly and Co., according to a court motion made Friday in federal court in Indianapolis.
The case against former Lilly scientists Guoqing Cao and Shuyu Li collapsed less than a month after Indianapolis-based Lilly provided "additional information" to the U.S. Department of Justice that changed "the investigative facts initially relied upon by the government" in its case against the two men, according to court documents.
It was not clear what that additional information was.
In a statement, a spokeswoman for Lilly said the company provided no new information last month, but merely a "subset of previously produced information."
Alain Leibman, a defense attorney in the case, said the additional information was "a fundamental shift by Lilly indicating that information originally alleged to be confidential and proprietary was actually not confidential and proprietary."
Tim Horty, a spokesman for the U.S. Attorney's Office in Indianapolis, declined to say exactly why the government dropped its case.
"The motion to dismiss was based on a variety of factors that occurred throughout the history of the case and there will be no further comment," he wrote in an email.
It is a stunning reversal for Cao and Li. The Carmel residents were arrested on Oct. 1, 2013, and charged with theft of information about nine experimental drugs Lilly was developing.
That same day, according to court documents filed by the government, Li admitted to FBI agents that he had transferred confidential material from Lilly to Cao, even after Cao had already joined a Chinese drug company, Jiangsu Hengrui Medicine Co. Ltd. Li also admitted he had tried to delete his emails to Cao from his computer in order to conceal them.
The two men were allegedly helped by a third former Lilly scientist who now works for Hengrui Medicine, according to the Department of Justice's indictment. The indictment did not name or charge that third man, referring to him only as Individual #1.
However, attorneys for Cao and Li have been seeking copies of emails exchanged by Lilly employees with Lianshan Zhang, a former Lilly researcher who is now the president of global research and development for Hengrui Medicine.
Joe Hogsett, who at the time the case was filed was the U.S. attorney overseeing the case, and his deputy, Cynthia Ridgeway, had said Cao's and Li's actions were treasonous.
"If the superseding indictment in this case could be wrapped up in one word, that word would be 'traitor,'" Ridgeway argued before a federal magistrate judge in October 2013.
Hogsett is now campaigning to be mayor of Indianapolis.
Defense attorney Leibman said Li admitted no wrongdoing in his interview with the FBI. In fact, Leibman claimed, none of the information exchanged by email between Cao and Li was confidential or proprietary but was being discussed widely by scientists at most pharmaceutical companies.
"Lilly provided bad information to the government," said Leibman, who represents Cao in the case.
Lawyers for Cao and Li have wrangled with federal prosecutors since May to obtain documents related to the case from the government and from Lilly.
In October, lawyers for Cao had pushed for and received material about statements made by Robert Titus, a patent lawyer at Lilly, who had changed his original statements about the case, according to a letter written by Indianapolis attorney David Hensel, who represents Cao.
"This is highly material to the defense as it appears that the false accusations by Mr. Titus formed the basis of a search warrant application made by the Government early in its investigation, leading to the collection of evidence deemed important by the Government," Hensel wrote in an Oct. 6 letter to Ridgeway, the assistant U.S. attorney acting as prosecutor on the case.
Hensel also noted that the former Lilly computer expert who had analyzed Cao's laptop computer, Patrick Gorsuch, admitted to the FBI in May that he no longer had possession of the hard drive on which he had copied files from Cao's computer drives.
"This is a very serious admission of what may amount to spoliation of evidence material to the defense," Hensel wrote.
Defense attorneys were also demanding that Lilly produce all emails from Cao's and Li's Lilly email accounts back to 2009. And they wanted an accounting of how William Heath, Lilly's head of global product development, arrived at the $55 million value he attached to the trade secrets allegedly stolen by Cao and Li.
Heath testified in an October 2013 hearing that the allegedly stolen trade secrets involved early-stage drugs being developed to treat cardiovascular disease, diabetes and cancer.
After the motion to dismiss was filed Friday afternoon, Lilly spokeswoman Christina Gaines wrote in an email: "Theft or misuse of Lilly's confidential information can harm Lilly by depriving the company and patients of its valuable research efforts and the innovation that produces new medicines."
Please enable JavaScript to view this content.