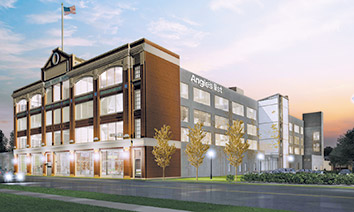 If Angie's List fails to live up to promises fueling a taxpayer-subsidized headquarters expansion, the company will pay an undetermined amount into an escrow account for the city's benefit.
Angie's List also agrees to donate up to $1 million to east-side not-for-profits if the company headquarters is relocated.
Those protections are built into a $17 million economic-development deal announced in October, two weeks after The Financial Times reported Angie's List had hired investment bankers to explore a sale. A bond issue for the deal still requires City-County Council approval.

Gigerich
The company says it will employ 2,800 people in Indianapolis by the end of 2019, but the city sought extra protection of its incentives because of the sale "rumors," said Larry Gigerich, managing director of the site-selection firm Ginovus, which represents Angie's List in its dealings with the city.
Publicly traded Angie's List has never reported an annual profit, and its stock price has swooned since a 2011 initial public offering. The company says heavy spending on advertising will pay off as Angie's List becomes the go-to source for vetting and hiring home-repair contractors.
Officials in Mayor Greg Ballard's office say their proposed agreement with Angie's List is no different from any economic-development deal. In the coming weeks, the Indianapolis City-County Council will consider an $18.5 million bond issue, which would pay for the acquisition of a historic East Washington Street building to house more Angie's List employees and the addition of a parking garage.

Collins
"This is very much a typical real estate deal," said Adam Collins, deputy mayor for economic development.
The deal centers on a 100-year-old Ford manufacturing building at 1301 E. Washington St., across the street from Angie's List's headquarters campus.
Angie's List would get $10 million from the city for its redevelopment effort, plus take title to the Ford building, which is currently owned by Indianapolis Public Schools.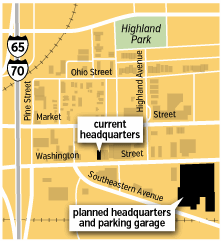 The bond under consideration by the council would be backed by revenue to the downtown tax-increment financing district.
Angie's List would receive $9.6 million of the bond proceeds to help pay for a new parking garage on an adjacent two-acre parcel, which the company bought early this year in anticipation of the deal, Gigerich said.
The company would also receive a $400,000 grant for infrastructure improvements. That money would come from existing Department of Public Works funds, through a deal to be worked out next year, said the city's director of strategic initiatives, Kurt Fullbeck.
Another $6.75 million in bond proceeds would go to IPS, which uses the Ford building as a warehouse, for the district's relocation expenses. Then the city would turn the building over to Angie's List, which would invest an estimated $23 million in renovations, Gigerich said.
The Ford building is full of asbestos and lead-based paint, giving it a "negative" real estate value, Gigerich said.

Fullbeck
The city arrived at the $6.75 million purchase price based on the school district's relocation needs, Fullbeck said. IPS hopes to find at least 10 acres in Center Township, where it could build a 130,000-square-foot warehouse that would consolidate uses in the Ford building, as well as storage space at College and Massachusetts avenues.
The latter IPS site, a former Coca-Cola bottling plant, is another piece of the Indianapolis urban redevelopment puzzle. The school district is examining how it can vacate the Coca-Cola site, currently used as a bus depot, Fullbeck said, but that was not a factor in the Angie's List project.
Angie's List estimates that the parking garage would cost $17 million, Gigerich said. The company assumes the garage would hold 1,200 to 1,500 spaces at a cost of $13,000 per space, and that the first floor could include retail space.
Ballard's office estimates that the city would see an additional $1 million a year in property-tax revenue from the garage and renovated Ford building. (Fullbeck said that does not assume the garage would be assessed at $17 million.)

Cheap parking is one advantage suburbs have over Indianapolis' urban core in the competition for jobs, Collins said. That's why the city agreed to subsidize Angie's List's parking, he said.
While Angie's List would own the parking garage, it could still be an asset to the city, Collins said. Under the agreement, the city reserves the right to take over as many as 500 parking spaces if they go unused for a period of 90 days.
The mayor's deputies hear from companies looking for parking in or near downtown all the time, Collins said. So reserving the right to space in a new garage could provide the city with bait for economic development deals.
"There's no doubt that parking in the downtown area is an asset," Collins said.
Metered protection
Angie's List wouldn't have to repay the entire $9.6 million in bond proceeds, even if it fell short of the aggressive hiring target.
Collins said that's because so many Angie's List employees—as many as 1,400—are expected to live in Marion County and specifically in Center Township. That translates to much-needed new residents in urban neighborhoods and a little more than $1 million a year in local income-tax revenue, according to Ballard administration estimates.
In addition to capital investment, the company says it will hire about 1,300 people by the end of 2019 at an average wage of $23 per hour.
The company would report on its progress each April and October, and if it doesn't hit annual targets by the end of each year, money would be deposited into an escrow account. That's unusual, Gigerich said, because most economic-development deals don't require a true-up until the end of the contract period.
Ballard's office wouldn't say how much could be recovered through escrow.
"There is no set amount that might be required," Ballard spokesman Marc Lotter said. "It should be noted an escrow payment is not a penalty. It is a sign of commitment by the company to take the necessary steps to come into compliance with an agreement."
The amount to be deposited in escrow would be determined through a formula that gives a 50-percent weight to the head count, 25 percent to the capital investment, and 25 percent to wages.
Angie's is supposed to hire its first 500, bringing the total head count to 2,000, by the end of 2015, Gigerich said.
The annual target would grow by 200 jobs each year for a grand total of 2,800 by the end of 2019, he said.
And what if Angie's List finds a buyer or major investor with no need for an Indianapolis headquarters?
The agreement requires the company to make donations to east-side charities if its headquarters is relocated before the end of 2020. The charitable gift would be $1 million if the relocation occurred in the first three years of the agreement and $500,000 if it came up in the latter years, Gigerich said.
On top of the mandatory gifts, the terms of the agreement would extend to 2024, meaning 2,800 jobs would have to stay in Indianapolis until that time, Gigerich said.
"They're locked into protecting those jobs."•
Please enable JavaScript to view this content.