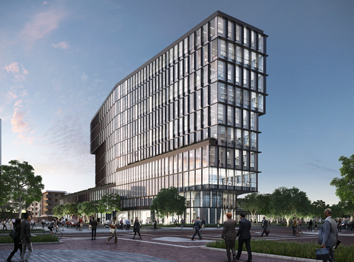 Cummins Inc. on Dec. 3 unveiled the design for the $30 million global distribution business headquarters it plans to build in the heart of downtown.
The following day, CEO Tom Linebarger discussed a broad range of topics with local media, including why the Columbus, Indiana-based company chose the former Market Square Arena site for the project and why it chose architect Deborah Berke Partners over two other New York firms it was considering, SHoP Architects and Tod Williams Billie Tsien Architects.

Linebarger
The company is substantially boosting its presence in Indianapolis, where it now employs about 100 workers, split between OneAmerica Tower and Capital Center. Those workers will move to the distribution headquarters, which initially will house 250 employees but will be able to accommodate 400.
The following is an edited version of Linebarger's real-estate-related remarks:
IBJ: What was attractive about the Market Square site, and how many others did you consider?
LINEBARGER: We looked at quite a few (probably about 10, including existing office buildings). We did look at the old GM building. That was really interesting. Here is what was important about this site. No. 1, we could get a big enough space that we can do something pretty interesting. We want to make it a really important building. We want to add green space, and we needed a big enough space to do it. And that was really important to us.
Second thing is, we want to be downtown; we want to have this good proximity to the airport and we want to be able to contribute somewhere. And so, in the end, there weren't that many sites that really met that specification.
IBJ: Did you receive any flak from the local design community for choosing an out-of-state firm, and what led you to choose Deborah Berke Partners?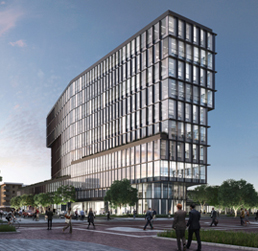 Cummins plans to finish the building by late 2016 and move in soon after. (Image courtesy Cummins Inc.)
LINEBARGER: We have a local architect involved, Ratio, and they're terrific, by the way. We're really pleased with the work they do. We do care a lot about local firms. We have our clinic down in Columbus where we have a local firm working on that. But we did a bidding on this one. We had people submit ideas, and then we had them come, and we basically had a competition. We invited people to compete based on their qualifications. A lot of people chose not to compete. So we took those best ideas and went back and talked to them more about our ideas for the site.
Deborah's group, they were just outstanding. They were good from the first minute. They put really good people on it. But again, I think there are multiple architects that could do a good job. I think that [Berke] just got what we were trying to do the best.
IBJ: What can you tell us about the other two designs?
LINEBARGER: Three world-renowned architecture firms created unique and fantastic designs. Each brought a distinct vision for the site that incorporated innovation, sustainability and urban design. We selected Deborah Berke Partners because they share our values; worked well with our team; and developed a design that captures the people-centric approach, creating a great place to work for employees and customers.
There was one other submission that we saw, it was beautiful. I just loved the building. But it didn't meet what we were trying to do. And not to mention that they couldn't really build it, probably. But we wanted to make sure there was a local presence from the very beginning, and that was another thing we liked about Deborah and her group—they partner really well.
IBJ: How significant is this project compared to others Cummins has undertaken?
LINEBARGER: It's a big project for us. It's not only a big investment, it's got a lot of pieces to it. We think about all these aspects in every building we put anywhere, but this is a big one in the sense that it's housing a lot of people. It's got a lot of different things to try to do right.
IBJ: When did Cummins first start thinking about building downtown?
LINEBARGER: I guess probably five years or so ago. We began to ask ourselves what was going to be our long-run strategy in Indianapolis. And we started to just bounce around ideas. It probably became more serious a couple of years ago.
Our timing is that we want to finish the building by the fourth quarter of 2016 and begin to move in after that. Timing is pretty tightly driven by the leases, but OneAmerica has been really good to us. They're trying to manage their lease stuff, too, and they've been pretty flexible with us.
 
Please enable JavaScript to view this content.