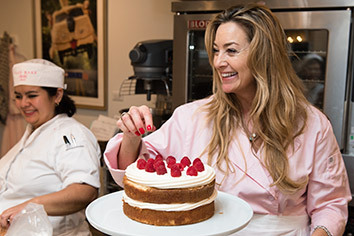 When local confectioner Gwendolyn Rogers won the prestigious London Cake & Bake Show in 2013, she received a year's supply of tea and a mixer unusable in the United States because of its European electrical prongs.
But Rogers walked away with something far more valuable—reassurance she needed to proceed with plans to own a bakery.
"[The judge] points to my cake, and I couldn't believe it," Rogers recalled. "I thought, 'Maybe my cake is better than I thought.' It really boosted my confidence."
Rogers, 49, achieved her goal last month of owning a bakery by opening the Cake Bake Shop on Carrolton Avenue in Broad Ripple. The former Little House gift shop space now sports cases full of tasty treats that include her popular chocolate and caramel cakes, as well as pies, eclairs and other goodies.
The Idaho native who arrived in Indianapolis along with her husband and three children in 2008 may be a novice business owner. Her baking skills, however, have been receiving star treatment.
Since winning the London competition, Rogers' cupcakes have made a cameo in the "Dumb and Dumber To" flick, and she personally delivered her famous chocolate cake backstage to Elton John following a concert in Paris.
She has become somewhat of a rock star herself.
"Suddenly, everybody's thought of her as the premier baker in town," said Bryan Chandler, a Broad Ripple real estate broker. "I think it's kind of the classical small-business story."
The Le Meridien hotel that opened downtown Dec. 4 in the former home of the Canterbury is featuring her eclairs until it hires its own pastry chef.
"We felt that she had a great, great product and something that we would feel comfortable representing in our establishment," said Nick Clark, the hotel's general manager.
L.A. to Indy
What makes Rogers' ascension so unusual is that she's never had any formal baking experience and only began to explore opening a bakery within the past three years.
Rogers was born in New Orleans and raised in Sun Valley, Idaho. Her stepfather, who wanted to pursue a career as a real estate agent, moved the family there to combine working with skiing.
She graduated high school in 1983 and studied photography at the San Francisco Art Institute. From there, Rogers moved to Seattle and got a job at a modeling agency booking models. That experience took her to a large men's modeling agency in Los Angeles, and on to shoe company LA Gear, where, as a casting director, she helped shoot commercials featuring the likes of pro athletes Joe Montana and Kareem Abdul-Jabbar.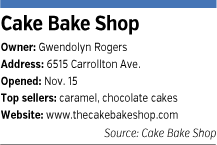 Rogers ultimately became personal assistant to J.B. Rogers, an Indianapolis native and film director, while he was making a low-budget movie that never got finished. The job lasted only six weeks. But their relationship endures. He asked her out to dinner, and they married in 1988.
J.B. Rogers' film credits as an assistant director include 1994's "Dumb and Dumber," the directorial debut of brothers Peter and Bobby Farrelly, who wrote the movie. The couple would have the Farrelly brothers over for dinner, and Gwendolyn Rogers cooked and baked for them.
So when it came time to make the "Dumb and Dumber To" sequel, playing in theaters now, Rogers read the script and saw that it called for cupcakes. She phoned Peter Farrelly, and he gave her the job.
Rogers spent a total of 12 years in Los Angeles and cooked and baked for plenty of dinner and birthday parties, she said. Outside her professional gigs, she also worked as a prep cook, waitress and bartender.
"I was always involved in food," she said.
But with her husband's film career taking off, and his travels, she moved back to Sun Valley, Idaho, with child in tow.
But on a 2007 family trip to Indianapolis to visit her husband's mother, a teacher at Park Tudor School, their eldest son, a fifth-grader at the time, begged them to enroll him in the school, which has an "amazing" fine arts program, Rogers said.
They moved to the Circle City the following year.
'Heaven on a plate'
Rogers' love of baking got a boost when she began making cakes for Teacher Appreciation Day at Park Tudor. They became so popular that the teachers asked for more, even if it meant buying them.
Chris Holobek, a fourth grade teacher, recalled the first time he tasted Rogers' red velvet cake.
"It was the most heavenly piece of cake I'd eaten in ages," he said. "Each of her cakes is truly heaven on a plate."
Rogers originally intended to sell her cakes at Park Tudor's Lilly Orchard store on campus and even bought an electric, commercial oven with plans to construct a kitchen in the space. But the store's operator ultimately balked at the changes and the deal fell through.
Rogers still owns the oven, which sits in storage. Her new shop on Carrollton runs on gas.
She leases the space, but has invested more than $300,000 in the renovation, thanks in part to a Small Business Administration-backed loan from First Merchants Bank. Rogers also cashed out two of her three children's college funds that she hopes to replenish to get the bakery off the ground.
"Failure's not an option for me," she said. "I've risked too much not to succeed."
The couple still rents a house in Indianapolis, because, as Rogers said, "you're only as good as your last movie," referencing her husband's film career.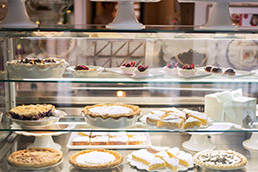 The Cake Bake Shop features several desserts, including eclairs, pies and Rogers' signature chocolate cake that's been sampled by Elton John. (IBJ photo/Eric Learned)
If the first month of business is any indication, the Cake Bake Shop is exceeding Rogers' expectations.
She logged 176 pre-orders for Thanksgiving before she even officially opened, and has hired nine bakers and a total of 22 employees when the business plan called for only eight workers.
Soup and sandwich options also are available at her shop, along with coffee, hot chocolate, champagne and wine. But her signature cakes get the most attention.
Her chocolate cake features four layers instead of the usual three, and the added height makes it tricky to assemble. Among the ingredients: chocolate ganache, malted cream and chocolate fudge frosting with French sea salt sprinkled on top.
Large cakes typically run $95, and small cakes $65.
Meanwhile, Rogers met Elton John in Paris after one of his "people" began following her on Facebook when she won the cake-baking contest in London. She was one of just 30 entrants—and the only American—invited to the show from 3,000 who submitted photos and recipes of their creations.
Critiquing the cakes was celebrity chef Peter Sidwell, judge of "Britain's Best Bakery".
"I've never been so nervous in my life," Rogers said of the competition, "and I've met Jim Carrey."
Sidwell since has approached her about co-hosting a cooking show with him, possibly on the Food Network or the Learning Channel, Rogers said, but nothing has been finalized.•
Please enable JavaScript to view this content.